JANUARY 16, 2018
Juvenile Court's Application of Law Designed to Protect Trafficked Children Questioned
A young woman charged with murder at age 15 argues that the juvenile court should have applied safe harbor protections in state law to her, as a trafficking victim, before transferring her to adult court.
JANUARY 4, 2018
Punitive Damages Not Recoverable in Contract Breach, Supreme Court Rules
Punitive damages are not recoverable in a breach-of-contract lawsuit unless the breach involves a tort, the Ohio Supreme Court ruled today.
Supreme Court Issues Opinions in Four Cases
Among the decisions released today, the Ohio Supreme Court ruled in four cases involving no-contest pleas, juveniles, or enhanced penalties for fentanyl possession.
JANUARY 3, 2018
Ohio Declines to Recognize 'Implied Covenant to Explore Further' in Oil and Gas Leases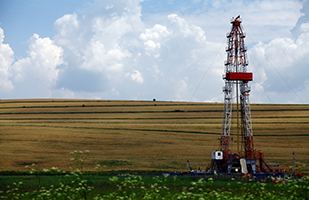 Ohio oil and gas leases do not have an implied requirement that drillers "explore further" into unexplored areas that is separate from the requirement that they "reasonably develop" the overall mineral rights they lease, the Ohio Supreme Court ruled today.
DECEMBER 15, 2017
Macedonian Legal Scholars Visit Downtown Cincinnati
Ohio Supreme Court Justice Patrick F. Fischer welcomed a group of judges, journalists, and legal experts from Macedonia this week.
DECEMBER 12, 2017
Ohio Supreme Court Chief Justice Welcomes New Judges
Ohio Supreme Court Chief Justice Maureen O'Connor welcomed 53 judges to the Thomas J. Moyer Ohio Judicial Center this week.
NOVEMBER 17, 2017
Chief Justice Issues Statement
Chief Justice Maureen O'Connor of the Supreme Court of Ohio issued this statement today:
"I condemn in no uncertain terms Justice O'Neill's Facebook post. No words can convey my shock.This gross disrespect for women shakes the public's confidence in the integrity of the judiciary."
NOVEMBER 8, 2017
Eight Incumbent Judges Lose Municipal Court Seats
On an Election Day when voters in 52 Ohio counties elected 109 municipal court judges, eight challengers beat incumbent judges in Butler, Cuyahoga, Lucas, and Summit counties.