Benched: Visitor Education Display Gets Facelift
Staff Report | August 13, 2012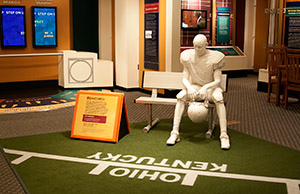 Kentucky students who asserted a constitutional right to play high school sports in Ohio were benched when the First District Court of Appeals rejected their claim.
The story about the case is told in an exhibit in the Supreme Court Visitor Education Center. Since the center opened in late 2005, the display was embedded in a carpet panel that was beginning to show wear. The exhibit was transformed into a three-dimensional setting with a cast figure of a lonely football player benched on the sideline. With the 2012-13 school year approaching bringing a new season of school tours, it is unlikely the player will remain lonely as students join him on the bench to pose for pictures.
The center, featuring an array of interactive exhibits and videos, is located on the ground floor of the Thomas J. Moyer Ohio Judicial Center.