Serbian Delegates Visit Ohio Supreme Court
Caption.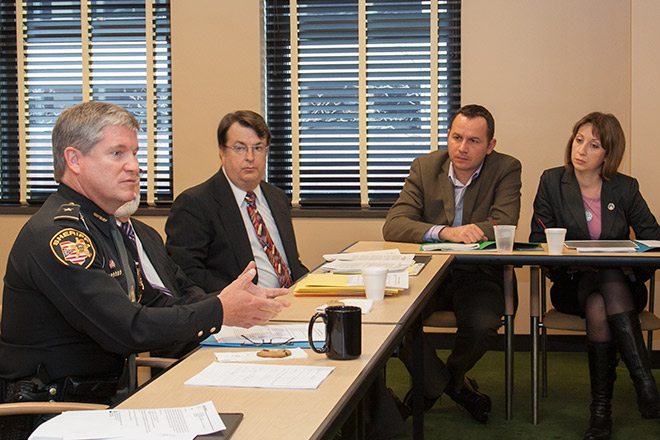 Warren County Sheriff Larry Sims (left) and Franklin County Assistant Prosecutor Jeff Rogers speak with Serbian delegates Dejan Kovacevic  and Tatjana Vasiljevic-Veljkovic during their visit to the Thomas J. Moyer Ohio Judicial Center.
Six Serbian delegates traveled halfway around the world this week to learn about American institutions that pertain to criminal justice and the judicial system. It's part of a weeklong experience called the Open World Program hosted by the Columbus International Program.
The delegates visited the Ohio Supreme Court today to discuss asset forfeiture and corruption in the United States, focusing on the enforcement of the rule of law.
Vladimir Bacic, chief police inspector for the Department for Planning and Coordination of Financial Investigations, said only since 2009 has Serbia been investigating assets derived from criminal actions. He said he was impressed with the experience of his American counterparts, who've been combating this type of criminal enterprise much longer.
"For that reason, the ideas we heard here are going to be very useful and important for improving the enforcement of the new law on asset forfeiture that we adopted recently," he said.
Beyond assisting his financial investigative work, Bacic said he was grateful to be able to make the trip for two other reasons: a chance to learn more about the American way of life and the opportunity to visit Washington, D.C.
Bacic said he grew up being influenced by American culture, and most Americans would be surprised to learn how much that influence permeates through the former Yugoslavia.
He said visiting the Lincoln Memorial "was a must" after seeing the landmark in numerous movies and books. He also called Lincoln "a great man."
During their weeklong trip to Ohio, the group also visited with representatives from the Franklin County Common Pleas Court, the Warren County Sheriff's Office, the U.S. Department of Justice, the Scioto County Courthouse, the Bureau of Criminal Identification and Investigation, The Ohio State University Moritz College of Law, the Ohio State Senate, and an Ohio law firm.
The other visiting delegates who participated in the program are Ivan Duzlevski, senior assistant prosecutor for the Office of the War Crimes; Dejan Kovacevic, a police official at the Unit for Financial Investigations in the Department for Planning and Coordination of Financial Investigations; Goran Mladenovic, assistant prosecutor for the Prosecutor's Office for Struggle with Organized Crime; Tatjana Vasiljevic-Veljkovic, assistant prosecutor for the Higher Public Prosecutor's office in Belgrade; and Milan Cupic, an assistant for Subjects of Business Finance and Financial Restructuring of Enterprises at the University of Kragujevac.
For more information on Open World, please visit http://www.openworld.gov.