Ohio Municipal, County Judges Association Elects Officers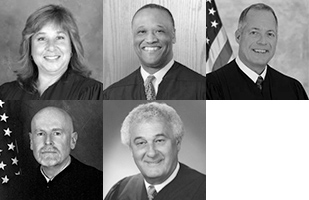 Top row, from left: Euclid Municipal Court Judge Deborah A. LeBarron, president; Dayton Municipal Court Judge Carl Sims Henderson, first vice president; Rocky River Municipal Court Judge Brian F. Hagan, second vice president. Bottom row, from left: Circleville Municipal Court Judge Gary Dumm, secretary; Franklin County Municipal Court Judge Michael T. Brandt, treasurer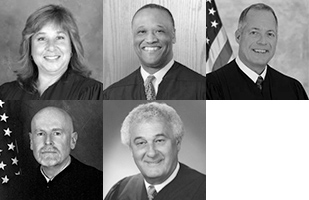 Top row, from left: Euclid Municipal Court Judge Deborah A. LeBarron, president; Dayton Municipal Court Judge Carl Sims Henderson, first vice president; Rocky River Municipal Court Judge Brian F. Hagan, second vice president.
Bottom row, from left: Circleville Municipal Court Judge Gary Dumm, secretary; Franklin County Municipal Court Judge Michael T. Brandt, treasurer
Municipal and county court judges took the oath of office today after being elected to leadership positions by the statewide membership of the Association of Municipal/County Judges of Ohio.
Ohio Supreme Court Chief Justice Maureen O'Connor administered the oath during the group's annual three-day winter meeting in Dublin.
The 2016 officers include:
Euclid Municipal Court Judge Deborah A. LeBarron – president
Dayton Municipal Court Judge Carl Sims Henderson – first vice president
Rocky River Municipal Court Judge Brian F. Hagan – second vice president
Circleville Municipal Court Judge Gary Dumm – secretary
Franklin County Municipal Court Judge Michael T. Brandt – treasurer
Judge LeBarron has served on the Euclid Municipal Court for nearly 18 years. Her previous legal experience included serving as Euclid's city attorney. She graduated from Case Western Reserve University Law School.
"I am honored to represent this group of hardworking and talented judges who preside over the largest caseload in Ohio," Judge LeBarron said.
The educational portion of the meeting includes sessions about judges' ethical and legal obligations after the U.S. Supreme Court decision on same-sex marriage, helping self-represented litigants while maintaining neutrality, and updates about legislation affecting courts.