Tenth District Judge Sits on Ohio Supreme Court Bench for Case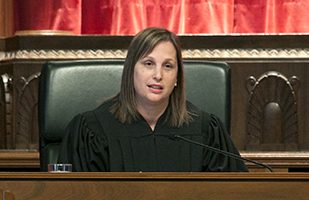 Tenth District Court of Appeals Judge Betsy Luper Schuster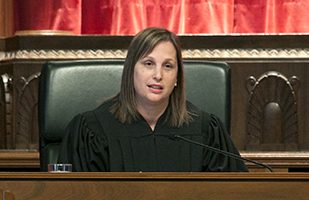 Tenth District Court of Appeals Judge Betsy Luper Schuster
Tenth District Court of Appeals Judge Betsy Luper Schuster served as a visiting judge on the Ohio Supreme Court today to hear oral arguments in a lawyer malpractice case.
Judge Luper Schuster sat in place of Chief Justice Maureen O'Connor,who recused herself from Ratonel v. Roetzel & Andress, (Case No. 2015-0724). The case involves the Dayton offices of Roetzel & Andress and a firm attorney who were sued for malpractice by a California woman who hired the firm to sue another law firm for malpractice.
This is the first time Judge Luper Schuster has served as a visiting judge on the Supreme Court. According to the Ohio Constitution, in the event of a recusal by a justice, the chief justice can select any of the 69 sitting Ohio appellate court judges to sit temporarily on the Court.
"It is an honor and a privilege to be asked to serve the people of Ohio as a visiting judge on the Supreme Court," said Judge Luper Schuster.
Judge Luper Schuster was appointed by the governor to an unexpired term on the Tenth District Court of Appeals bench in 2014 and was elected later that year. Prior to that, her public service included chief elections counsel at the Ohio Secretary of State's Office, chief counsel to the governor, and assistant attorney general. Judge Luper Schuster received her bachelor's and law degrees from The Ohio State University, and she was admitted to the practice of law in Ohio in 1997.
The Tenth District Court of Appeals is based in Columbus and has eight elected judges sitting in panels of three to hear and decide appeals from all divisions of the Franklin County Court of Common Pleas, the Franklin County Municipal Court, the Ohio Court of Claims, and numerous state agencies. The court also has jurisdiction over original actions in habeas corpus, mandamus, prohibition, procedendo and quo warranto.