Judicial Contests Set After Primary Election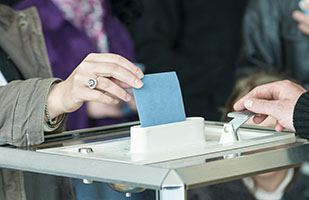 Voters selected their judicial candidates during the March 15 primary election.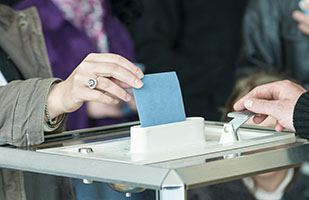 Voters selected their judicial candidates during the March 15 primary election.
Voters made selections during yesterday's primary election for seats on the Ohio Supreme Court, state appeals courts, and common pleas courts.
There are three Supreme Court seats up for election this year, but only one primary race was contested. First District Court of Appeals Judge Patrick Fischer defeated Eleventh District Court of Appeals Judge Colleen O'Toole in the Republican primary. Fischer will face Cuyahoga County Common Pleas Court Judge John P. O'Donnell in November. Also in November, appellate judges Cynthia Rice and Pat DeWine compete to be on the state's highest court, and Chief Justice Maureen O'Connor has no challenger for another six-year term on the bench.
In contested primary races for seats on the courts of appeals, William Zimmerman won the three-way Republican race to appear on the November ballot in the Third District, and Valerie Gerlach defeated her Democratic primary opponent to take on incumbent Fourth District Court of Appeals Judge Matthew McFarland in November.
At the county common pleas court level, there were 14 contested races. Among those:
Cuyahoga County Common Pleas Court Judge Michael Astrab ran for a different seat on the bench and lost in a four-way Democratic race to Kelly Ann Gallagher. Gallagher will face James Cochran in the November election.
Randall Fuller will be the judge in Delaware County's newly created domestic relations court in January, if no one submits a write-in bid, after Fuller defeated fellow Republican Christopher Geer in yesterday's primary.
In Geauga County, four Republicans ran to replace Judge David Fuhry, who is not running for reelection. Carolyn Paschke, a court magistrate, topped the three other candidates.
Two appointed judges weren't retained by the voters in their Republican primary races. Lorain County Common Pleas Court Judge Michele Silva Arredondo lost to Will Spiegelberg, and Judge Michael Gilb of the Warren County Common Pleas Court lost in a three-way primary race to Timothy Tepe.
The general election will be held on Nov. 8. In all, Ohio voters will determine more than 145 judicial seats, with races for county courts added to the November ballot. Updated candidate information will be available to voters prior to the election at JudicialVotesCount.org.
Unofficial results have been compiled by Supreme Court staff using information from county boards of elections and the Ohio Secretary of State.

PDF files may be viewed, printed, and searched using the free
Acrobat
®
Reader
Acrobat Reader is a trademark of Adobe Systems Incorporated.