Ohio Judicial Conference Director to Retire After 10 Years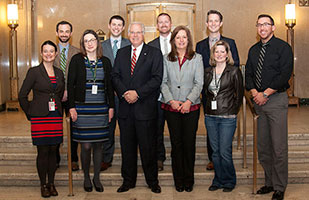 Retiring executive director of the Ohio Judicial Conference, Mark Schweikert (front row, third from left), and other Judicial Conference staff.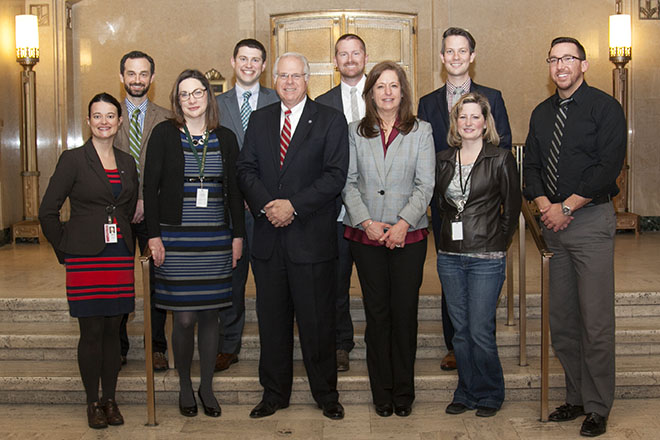 Retiring executive director of the Ohio Judicial Conference, Mark Schweikert (front row, third from left), and other Judicial Conference staff.
Leading the Ohio Judicial Conference since 2006, executive director and retired Judge Mark R. Schweikert on April 1 will be retiring from his post. He said it was a privilege aiding Ohio's judges.
"It has been a tremendous honor to serve in this position, to work with Ohio's judges and justices and on occasion to speak on their behalf in the legislature and with other parties interested in the justice system," Schweikert said. "I very much enjoyed working at the policy level in Ohio government and, particularly in the justice system, knowing that the work we do here has significant impact at the local level."
Schweikert received a certificate of recognition signed by Ohio Supreme Court Chief Justice Maureen O'Connor. Part of the text reads: "On behalf of my colleagues, it is an honor to recognize his dedication and diligence on behalf of the Ohio Judicial Conference as its executive director for the past 10 years. Mark's experience and insight into the judiciary ensured his leadership of the Judicial Conference would be meaningful and effective. Not only was he a tremendous resource for judges, but also for legislators, as they sought information and understanding of Ohio's judicial system."
With more than 700 judges who are part of the conference, Schweikert said he's proud of the way the judges worked together to reach a unified voice on most topics.
"Their common interest in justice and their shared expertise in their field of law help to facilitate that," he said. "Judges working together with staff have raised the credibility of the judicial conference, both within the membership of the judiciary and in the other branches of government."
Prior to serving the judicial conference, Schweikert was a Hamilton County Common Pleas Court judge from 1995 through 1999 and was the county's court administrator for both the municipal and common pleas divisions from 1981 until 1995.
"My court management skills have been useful to me in this position, both as a manager of a state agency and in understanding the multi-dimensional practical issues associated with state police, courts, and judges," Schweikert said. "Working with the very capable judicial conference staff, my judicial insight helped us to focus on [the judges'] perspectives, either on substantive law and general policy, or judicial wellness and professionalism issues."
Schweikert said he's only semi-retiring as he plans to regularly work as a judge sitting by assignment across Ohio.
He received his law degree from Chase College of Law at Northern Kentucky University and was admitted to the Ohio bar in 1980. Schweikert is a former chair of the court administration committee of the Ohio Judicial Conference and has served on many other committees under the Ohio Supreme Court. He also served as a consultant and faculty for court reform projects in Ukraine and Mongolia.