Website Offers Voters Unbiased Information on Judicial Candidates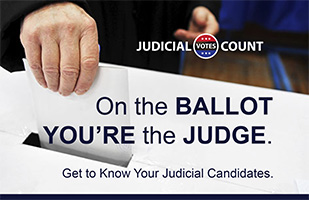 Visit Judicial Votes Count at JudicialVotesCount.org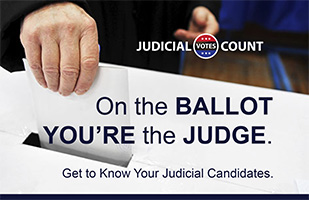 Visit Judicial Votes Count at JudicialVotesCount.org
Data show an information void in Ohio on candidates for judicial seats, but one non-partisan web tool will present voters with unbiased information on all judicial races next month.
In its fifth year, the Judicial Votes Count program – at JudicialVotesCount.org – offers voters an online resource to learn about the state's judicial system and how judges impact their lives and communities, with videos from former judges at all court levels, explaining judicial duties. All judicial candidates are asked to submit their biographical information and reasons for seeking office, with their unedited answers posted to the website.
"Voters should have access to reliable information about everyone who is running for judge, and Judicial Votes Count gives Ohioans a one-stop resource on all judicial races on their ballots," said Chief Justice Maureen O'Connor. "We know there is a considerable drop-off in the number of voters who cast their ballots for judges in Ohio and research tells us that a lack of reliable information contributes to that situation.
"We hope candidates use this opportunity to present their credentials and that voters, too, will put forth effort to educate themselves on the judiciary before they cast their ballots. Voter participation in these elections is crucial. Who sits on our courts makes a difference on both the local and statewide level."
Nearly 80 municipal court judge seats will be elected in 37 Ohio counties this year. More than 100 candidates have filed for those seats and each has been asked to submit their candidate information.
Judicial Votes Count was launched in 2015 by a nonpartisan partnership of Chief Justice O'Connor, the Bliss Institute at the University of Akron, the League of Women Voters of Ohio, the Ohio State Bar Association, the Ohio News Media Association, and the Ohio Association of Broadcasters.
Voters in all Ohio counties will elect judges in 2020, including for county court, common pleas court, court of appeals, and the Ohio Supreme Court.