Ohio Probate, Domestic Relations, and Juvenile Court Judges Cited for Innovation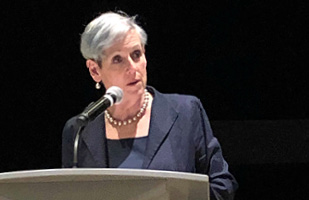 Chief Justice Maureen O'Connor applauded Ohio judges at a recent conference.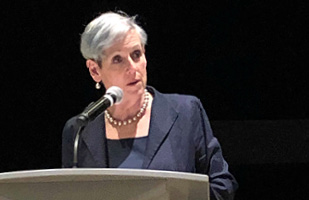 Chief Justice Maureen O'Connor applauded Ohio judges at a recent conference.
The Ohio Association of Probate Judges (OAPJ), made up of probate, domestic relations, and juvenile court judges, convened its annual meeting with plaudits for innovation on the bench.
Ohio Supreme Court Chief Justice Maureen O'Connor swore in the new OAPJ officers and praised the accomplishments of the judges in the past year at the gathering in Sandusky.
"The work you do is hard, yet the milestones are many," Chief Justice Maureen O'Connor said. "My job takes me around the country, and I am so proud to talk about Ohio courts and the work that you do."
Some of the noted accomplishments included:
Butler and Stark County's guardianship monitoring programs were applauded at the Ohio Association of Gerontology and Education
Montgomery County Probate Court has a County Elder Abuse Interdisciplinary Team showcased at a recent probate conference
Trumbull County Probate Court's Adoption Day was recently featured on ABC's "Good Morning America"
Three judges in Hamilton County created a text messaging system to increase efficiency
Trumbull County Family Court formed The Girls Circle, a support group for girls ages 12-17 who are in need of guidance
The Mahoning County Juvenile Court has a program called CARD - which stands for Cyber and Relational Diversion program - for first-time bullying offenders
Stark County Family Court runs its Third Millennium Classroom that provides an online alcohol, marijuana, and nicotine program for 15-17 year olds
Clermont County and Coshocton County juvenile courts were applauded for their truancy intervention programs
Cuyahoga County Juvenile Court was the recipient of a Civil Justice Program Award for expanding its resource center to provide increased legal resources and legal advice.
Chief Justice O'Connor encouraged judges to keep doing life-changing work in their courtrooms.
"Keep filling yourselves with knowledge," she said. "Do so through networking and taking advantage of the ideas of your colleagues. Be compassionate. But make sure that collegiality is in the mix and keep your cup full of knowledge and energy."