Second District Judge Hears Supreme Court Case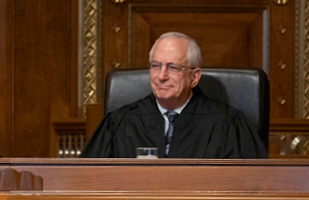 Second District Court of Appeals Judge Jeffrey E. Froelich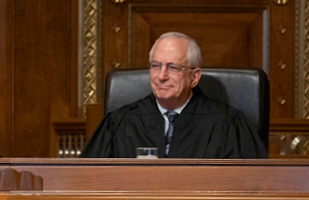 Second District Court of Appeals Judge Jeffrey E. Froelich
Second District Court of Appeals Judge Jeffrey E. Froelich served as a visiting judge on the Ohio Supreme Court today and heard oral arguments involving a case to determine whether a worker who was fired can sue a county that publicized her termination.
Judge Froelich replaced Justice Melody J. Stewart, who recused herself from Marcella King Piazza v. Cuyahoga County, et al., Case no. 2-0171649.
According to the Ohio Constitution, in the event of a recusal by a justice, the chief justice can select any of the 69 sitting Ohio appellate court judges to sit temporarily on the Supreme Court.
Judge Froelich last sat for oral arguments on the Ohio Supreme Court in 2010.
"It's always a privilege and a great responsibility to sit as a judge. Whether you are a municipal, common pleas, or appellate judge, this experience really highlights that," Judge Froelich said.
He was elected to the Second District Court of Appeals in 2008 after serving 16 years as a county judge and 14 years on the general division of the Montgomery County Common Pleas bench. He served as an administrative judge and the county's first drug court judge. He was also an assistant prosecutor in Montgomery County and an assistant professor at the University of Dayton School of Law.
Judge Froelich graduated from Miami University and received his law degree from the University of Michigan.
The Second District Court of Appeals serves six counties from its central office in Dayton. The court hears cases from county, municipal, and common pleas courts as well as original actions in habeas corpus, mandamus, prohibition, procedendo, and quo warranto.