Seventh District Judge Sits on Ohio Supreme Court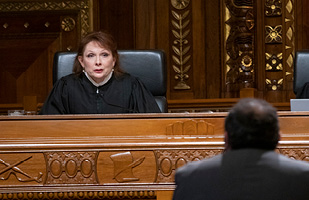 Seventh District Court of Appeals Judge Cheryl L. Waite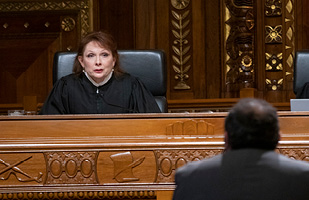 Seventh District Court of Appeals Judge Cheryl L. Waite
Seventh District Court of Appeals Judge Cheryl L. Waite served as a visiting judge on the Ohio Supreme Court today involving a case on whether state law requires that a canine must be previously designated a "dangerous dog" before restitution can be sought from the owner.
Judge Waite substituted for Justice Patrick F. Fischer, who recused himself from State of Ohio v. Joseph Jones, Case No. 2018-0601.
This is the sixth time that Judge Waite has served as a visiting judge.
"It's always a great honor to be asked to sit on the Supreme Court," Judge Waite said. "In my 23 or 24 years on the appellate bench, you are still in awe of the things that come before the Supreme Court, the important work they do for the state, and just walking into the courtroom fills you with awe."
"I was honored to be asked. It was a really interesting case. Overall, it was a wonderful experience and the justices couldn't be more welcoming," she said.
Judge Waite was elected to the appeals court in 1996. She was re-elected to six year terms in 2002, 2008, and 2014. Before taking her seat on the bench, she worked as an assistant law director and acting risk manager for the city of Youngstown.
Judge Waite received her undergraduate degree from Youngstown State University and her law degree from Cleveland-Marshall School of Law.
The Seventh District is comprised of eight counties: Mahoning, Columbiana, Jefferson, Carroll, Belmont, Harrison, Monroe, and Noble.