Third District Court of Appeals Judge Hears Oral Arguments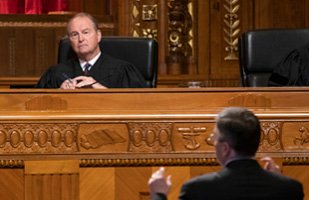 Third District Court of Appeals Judge William R. Zimmerman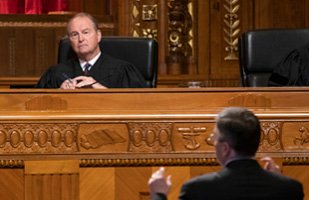 Third District Court of Appeals Judge William R. Zimmerman
Third District Court of Appeals Judge William R. Zimmerman served as a visiting judge on the case involving whether a zoning commission correctly assessed evidence when denying a request to mine for sand and gravel.
Judge Zimmerman substituted for Justice Judith L. French in Shelly Materials Inc. v. City of Streetsboro Planning and Zoning Commission et al., Case no. 2018-0237.
This is the first time Judge Zimmerman has heard oral arguments.
"It is a high honor and great privilege to be appointed to sit as a judge on the Ohio Supreme Court," he said. "This has been a rewarding experience."
According to the Ohio Constitution, in the event of a recusal by a justice, the chief justice can select any of the 69 sitting Ohio appellate court judges to sit temporarily on the Supreme Court.
Judge Zimmerman has sat on the Third District since 2017. He served as a Shelby County Common Pleas Court Judge from 2009-2016. He also served as an assistant public defender. Judge Zimmerman received both his bachelor's and law degree from Ohio Northern University.