Appellate Judges, Akron Alums Return to School for Oral Arguments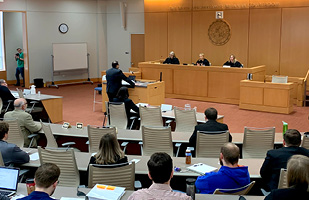 Ninth District Court of Appeals judges hear oral arguments at their alma mater, the University of Akron.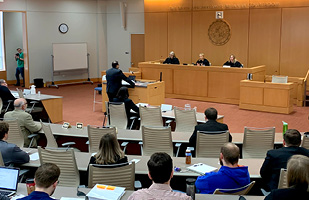 Ninth District Court of Appeals judges hear oral arguments at their alma mater, the University of Akron.
Years ago, all the current judges on the Ninth District Court of Appeals sat in lecture halls as University of Akron students. This week, they showed current law students where their education can take them.
The Ninth District heard oral arguments for three appellate cases in front of students, faculty, and the dean at the University of Akron School of Law.
It was a homecoming for all six judges on hand. Ninth District Court of Appeals Judges Thomas Teodosio, Lynne Callahan, Donna Carr, Jennifer Hensal, and Julie Schafer — and visiting judge Judge Cynthia Westcott Rice — from the 11th District — all received an undergraduate and/or law degree from the university.
"Hearing arguments at my alma mater was a wonderful experience for our judges and the students," said presiding Judge Thomas Teodosio. "For us, it is an opportunity to work outside of our normal court setting and enjoy a different perspective on our jobs as appellate judges."
The cases presented included a pair of lawsuits with plaintiffs seeking benefits from their former employer, and a claim of damages against Child Protective Services regarding the treatment of children in foster care.
"It is so rewarding to have the opportunity to give our future attorneys exposure to live controversies with experienced attorneys," said Judge Schafer.
"I believe the informal discussion afterward helps to make the practice of law more real for them and allows us to impart some practice tips and words of wisdom."
During the conversation with students following the cases, the judges explained how they ended up in the judiciary, if they were ever swayed by an attorney during oral arguments, and advice on what it takes to become a successful attorney.
The Ninth District —one of Ohio's 12 intermediate-level appellate courts — is comprised of five judges who hear appeals from common pleas, municipal, and county courts in Lorain, Medina, Summit, and Wayne counties.