Twelfth District Appellate Judge Hears Supreme Court Case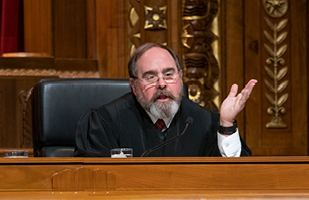 Twelfth District Court of Appeals Judge Robin N. Piper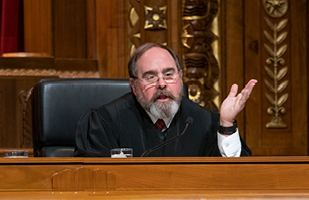 Twelfth District Court of Appeals Judge Robin N. Piper
Twelfth District Court of Appeals Judge Robin N. Piper sat for oral arguments today and heard a case involving whether a municipal tax on motorized, horse-driven, or manpowered vehicles-for-hire violates state law.
Judge Piper sat in for Justice Judith L. French, who recused herself from State of Ohio/Village of Put-in-Bay v. Mark Mathys and Islander Inn, Case No. 2019-0324.
"I love coming up here, just visiting the premises instills your love of the law to see how grand all of this is," Judge Piper said. "Every case that I have up here has some twists and turns. You really have to unravel a lot to get to the focus of what the issues are and how to resolve those issues. It's such a fun and interesting process."
According to the Ohio Constitution, in the event of a recusal by a justice, the chief justice can select any of the 69 sitting Ohio appellate court judges to sit temporarily on the Supreme Court.
Judge Piper began serving on the Twelfth District in February 2011. Previously, he was the Butler County prosecutor for more than 10 years and an assistant prosecutor for nearly 14 years prior. He also was the sole proprietor of a private general practice involving legal matters and litigation in all areas of the law.
Judge Piper earned his law degree in 1982 from University of Dayton School of Law and was admitted to the Ohio bar that year.
The Twelfth District Court of Appeals serves eight counties in southwest Ohio.