New Judicial Guide to Public Health Helps Judges Manage Emergencies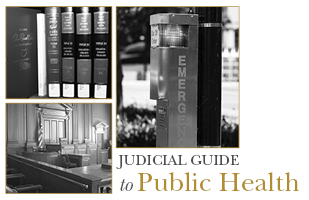 The Ohio Supreme Court's new resource for judges will help prepare them for health emergencies.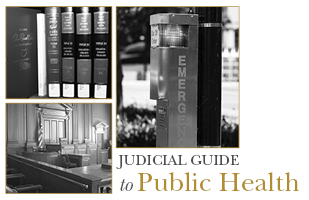 The Ohio Supreme Court's new resource for judges will help prepare them for health emergencies.
The health and well-being of Ohio citizens and communities are paramount in any emergency.  That's why the Ohio Supreme Court partnered with experts from the Ohio Department of Health to update and expand the Judicial Guide to Public Health.
The expansive guide will be distributed to all Ohio judges, and a corresponding summary document will follow. Both offer a high-level, quick summation of critical topics.
"We want judges and communities to be prepared, before a serious health emergency arises," said Chief Justice Maureen O'Connor, a member of the National Center for State Courts' Pandemic and Emergency Preparedness Task Force.
"Along with my counterparts from other states, I have been working with health experts to learn how to manage serious and likely threats to our communities," the chief justice explained. "The world is smaller because of more frequent world travel and the likelihood of disease exposure is increasing.
"That's why this piece is well-timed," Chief Justice O'Connor said. "Educating the state's judges to act confidently and appropriately is our objective."
The guide provides an in-depth look at federal-versus-state jurisdiction over public health emergencies, searches, restraints, and seizures, and the protection of individual rights. It covers the authority of the Ohio's health agencies, such as the Ohio Department of Health and local health departments, and addresses judicial authority in times of widespread crises, including how to manage court operations to ensure justice is carried out properly and expediently under trying circumstances.
"The Ohio Department of Health is proud of its partnership with the Ohio Supreme Court," said Socrates Tuch, senior counsel in the department's Privacy Office. "Preparation is key, and Ohio's courts are an important partner in responding to and recovering from possible threats to the public's health."
The Supreme Court is encouraging judges, after receiving the public health guide, to get together with their local public-health partners to become acquainted with each other and role play emergency scenarios.
"Members of the Supreme Court staff recently worked through a similar exercise for a half day with members of our advisory committee who assisted with the development of this resource," said Milt Nuzum, director of Judicial and Education Services for the Court. "We found the meeting to be well worth our time and important in understanding the many issues community officials would face in such an emergency.
"Local officials would find a similar exercise to be incredibly helpful and enlightening," Nuzum said.