Tenth District Judge Brown Hears Supreme Court Case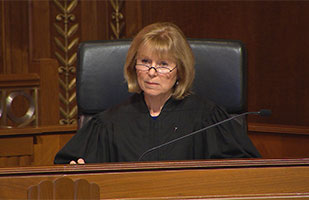 Tenth District Court of Appeals Judge Susan Brown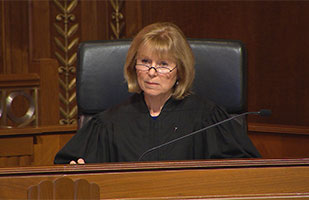 Tenth District Court of Appeals Judge Susan Brown
Tenth District Court of Appeals Judge Susan Brown served as a visiting judge on the Ohio Supreme Court Wednesday. She heard oral arguments as to what responsibility a trial court has to a person on probation who is set to plead guilty to a new felony and the possibility of the defendant unknowingly agreeing to multiple prison sentences instead of just one.
When a person on probation is accused of another felony and agrees to a plea deal, the court can revoke that probation, resulting in prison time for both the most recent crime and the one the defendant previously committed.
Judge Brown replaced Justice Mary DeGenaro, who recused herself from State of Ohio v. Dustin Bishop (Case nos. 2017-1715 and 2017-1716).
Judge Brown joined Chief Justice Maureen O'Connor and Justices Terrence O'Donnell, Sharon L. Kennedy, Judith L. French, Patrick F. Fischer, and R. Patrick DeWine in hearing the case.
According to the Ohio Constitution, in the event of a recusal by a justice the chief justice can select any of the 69 sitting Ohio appellate court judges to sit temporarily on the Supreme Court.
Wednesday was Judge Brown's fifth time serving as a visiting judge. Her most recent appearance was in 2007.
"It feels good. I haven't been back in a while, so it was nice to be invited to come back," she said.
Judge Brown has served on the appellate bench since 1999. Previously, she served as a judge in the Franklin County Court of Common Pleas for four years. Her move to the bench came after a year as a teacher, eight years as a flight attendant, and a decade as a private attorney. Brown received a bachelor's and master's degree in special education from Kent State and Ohio State universities, respectively, before getting her law degree from Capital University.
The Tenth District Court of Appeals serves Franklin County, and hears cases from county, municipal, and common pleas courts, as well as certain original actions.