Visiting Judge Living His Childhood Dream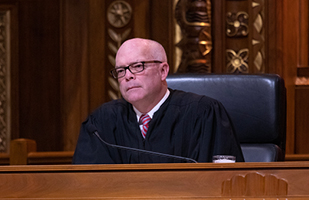 Fifth District Judge Craig Baldwin hearing his first Supreme Court case since Jan. 2017.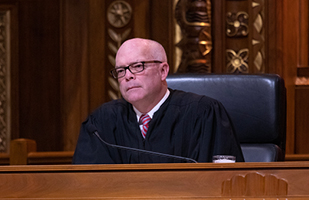 Fifth District Judge Craig Baldwin hearing his first Supreme Court case since Jan. 2017.
Fifth District Court of Appeals Judge Craig Baldwin knew from the time he was 10 years old that he wanted to be on the bench. Serving as a visiting judge for the Supreme Court of Ohio goes beyond anything he could have imagined.
"Your ability to be a leader in the justice system is immense as judge," said Judge Baldwin. "It goes to a different level when you're hearing cases that impact the entire state."
Last week he heard the case of Highland Tavern LLC et al. v. Michael DeWine, governor of the State of Ohio et al.in place of Justice R. Patrick DeWine, who recused himself. The Ohio Constitution states that in the event of a justice's recusal, the chief justice selects an appellate court judge to sit temporarily on the Supreme Court.
Until joining the Fifth District in 2013, Judge Baldwin never considered sitting on the court of last resort. His dream job was at the Licking County Courthouse. It's where he saw his first trial, as a young man, during a school field trip.
"As soon I walked into the courtroom, I wanted to be that judge," said Judge Baldwin.
On his path to judgeship, he had traditional jobs that helped him prepare – private attorney, law clerk, and deputy clerk of courts. He later served as a domestic relations and appellate judge.
Judge Baldwin had also worked outside the legal profession, acquiring important tools. He coordinated residence hall programs at Penn State University, doing a lot of professional development. Another job was director of the Licking County Child Support Enforcement Agency, where he learned how to manage people and make hard decisions.
Judge Baldwin has found continuous growth during his 18 years on the bench. He has served the profession through Supreme Court commissions and task forces, and is a frequent instructor with the Ohio Judicial College.
"It's amazing when you teach, how much you learn that not only makes yourself, but your service better," Judge Baldwin said.
The judge says his decisions are based on a commitment to the law and the constitution, an ideal he's been pursuing since childhood.
"I'm thankful every day for how things have worked out," Judge Baldwin said. "There was a lot of hard work, purposeful action, and luck, as well."