Ohio Court Managers Earn Fellows Credentials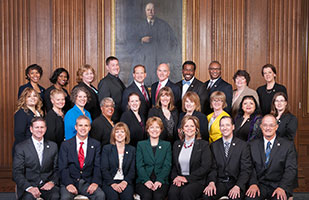 ICM Fellows Class of 2015.
ICM Fellows Class of 2015.
Six Ohio court managers became Fellows of the Institute for Court Management (ICM) in Washington, D.C. this month.
ICM, a division of the National Center for State Courts, created the fellows program more than 45 years ago to improve administration management. Its 16-month curriculum prepares professionals for leadership and management development.
Margaret Allen, education program manager at the Ohio Supreme Court Judicial College, completed requirements of the ICM Fellows Program. She, along with 21 other court professionals from across the country, including five others from Ohio, took part in the graduation ceremony at the U.S. Supreme Court. Allen was also the 2015 class spokesperson and made remarks during the event.
"I'm very grateful to have had the opportunity to participate in this extraordinary program," Allen said. "The Institute for Court Management provides a great service to the court community through its offering of this program and its many others resources."
"I found the program to be enlightening in several ways.  I learned more about the history and practice of court administration, conducted research that will play a part in our profession, and benefitted from the experience of the other members of the Fellows Class of 2015, as well as the ICM faculty," Allen added.
Besides taking courses online and in person, the fellows had to research and write a paper about a topic of interest. Franzetta Turner, a deputy court administrator at Cleveland Municipal Court, received an honorable mention for her paper.
More than 1,200 court personnel have graduated from the ICM Fellows Program since its inception.
2015 Ohio Fellows and Project Topics:
Allen; "You Want Justice with That? What New Court Employees Need to Know"
Turner; "Reducing Failure to Appears Through Community Outreach"
Melinda Brooks, Acting Chief Probation Officer, Franklin County Adult Probation; "Digitalization of Probation Records in Franklin County Municipal Court"
Melissa Litteral, Director of Probation Services, Greene County Common Pleas Court; "Felony 5 Sentences Impact on the Ohio Prison System"
Obie Lucas, Chief Deputy Clerk, Franklin County Municipal CourtClerk; "Assessing Electronic Filing Viability for the Franklin County Municipal Court"
Matthew Pendy, Criminal/Traffic Manager, Franklin County Municipal CourtClerk; "What If? Issues in Assuming Mayor's Court Jurisdiction."