Ohio Foreclosure Filings Continue to Decline
Ohio court statistics show a decline in foreclosure filings in the last five years./p>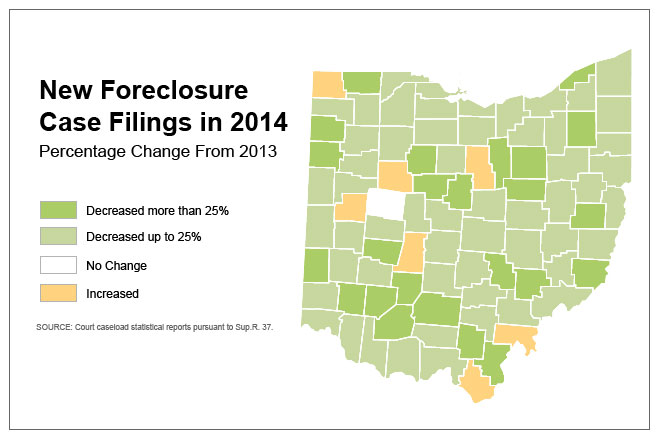 Ohio court statistics show a decline in foreclosure filings in the last five years.
The number of foreclosures declined in Ohio in 2014 for a fifth straight year, according to statistics released today by the Ohio Supreme Court.
The 43,727 new filings in common pleas courts of residential, commercial, and tax foreclosure cases last year represented a decline of nearly 18 percent from 2013, and a decline of slightly more than 50 percent over 2009 when the state reached an all-time high of 89,061 new filings.
There were significant declines among Ohio's largest counties: Cuyahoga County, 20.3 percent; Hamilton County, 22.3 percent; and Summit County, 15.6 percent. The exception was Franklin County's 3.7 percent decline.
Additional highlights when comparing 2014 to 2013:
One county experienced no change (Logan County).
Seven counties saw increases (Hardin, Lawrence, Madison, Meigs, Richland, Shelby, and Williams counties).
Eighty counties (91 percent of the state) saw declines, and, on average, they each declined slightly more than 21 percent.
Twenty-five counties had declines of 25 percent or greater, with Van Wert County experiencing the largest decline at 47.3 percent.
The Supreme Court began collecting foreclosure caseload statistics from common pleas courts in 1990 to assist in the efficient administration of justice by measuring the pace of incoming litigation for case management purposes. The court does not examine or analyze larger social or governmental trends that may contribute to or influence changes in the number of foreclosure case filings.

Excel files may be viewed for free with
Office Online
.