Local Author, Whose Work is Featured in Hollywood Blockbuster, Will Speak to Students at Supreme Court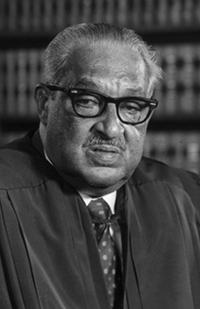 Hon. Thurgood Marshall, former justice of the U.S. Supreme Court.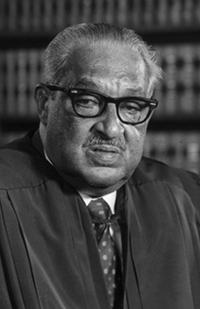 Hon. Thurgood Marshall, former justice of the U.S. Supreme Court.
A local author, whose Washington Post article served as the basis for the 2013 award winning movie The Butler, will be the featured speaker at the Ohio Supreme Court's Forum on the Law Lecture Series on Oct. 20 at the Thomas J. Moyer Ohio Judicial Center.
Franklin Heights High School graduate Wil Haygood, born and raised in Columbus, will discuss his new book "Showdown: Thurgood Marshall and the Supreme Court Nomination that Changed America." Today is the 48th anniversary of Marshall's confirmation to the U.S. Supreme Court.
More than 200 high school students are expected to attend the lecture and learn more about Marshall as Haygood recounts the stop-at-nothing efforts by a group of Southern senators to deny Marshall's confirmation as the first African-American and 96th justice on the Supreme Court.
Before becoming a justice, Marshall was considered a giant in the civil rights movement for his many courtroom victories including being the attorney who argued and won the U.S. Supreme Court decision Brown v. Board of Education (1954).
A review of the book by the Los Angeles Times noted: "Haygood wisely avoids getting mired in legal jargon in a richly textured account that brings to life the political and cultural stakes involved in this confirmation fight."
Columbus Metropolitan Library is partnering with Columbus City Schools, Mayor Michael Coleman, and Haygood on a community-wide reading initiative to encourage central Ohioans to read the same book at the same time. Haygood's book will be featured for this program through Nov. 12
For three decades, Haygood was a reporter for the Boston Globe and the Washington Post, covering national and international stories. In 2008, he wrote the compelling story of Eugene Allen, the White House butler who served eight presidents over 34 years, the basis for The Butler.
The Forum on the Law was established in 2009 by the late Chief Justice Thomas J. Moyer as an ongoing lecture series. Events feature regional or national speakers who address contemporary or historic legal topics.
The event is cosponsored by the Asian Pacific American Bar Association of Central Ohio, the John Mercer Langston Bar Association, and the Law and Leadership Institute, LLC.