We Are Gathered Here at the Courthouse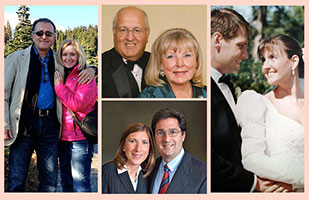 From left: Judges Ron and Cynthia Rice, Judges Tim and Diane Grendell, Judges Thomas and Linda Teodosio, and Judges Gary and Stacy Cook
From left: Judges Ron and Cynthia Rice, Judges Tim and Diane Grendell, Judges Thomas and Linda Teodosio, and Judges Gary and Stacy Cook
A mutual love of the law can be a catalyst to romantic relationships as many in the legal profession go from law school or law firms to the altar. The Ohio judiciary has a history of couples bound in both matrimony and public service. In the spirit of Valentine's Day, here are four stories of judicial couples currently on the bench.
Judges Thomas and Linda Teodosio both sit on the Summit County Court of Common Pleas - Thomas on the general division bench since 2007. His wife, Linda, has served on the juvenile court bench since 2003. They met at the University of Akron School of Law and started dating in their second year. They'll celebrate their 32nd wedding anniversary this July.
Judges Tim and Diane Grendell met while Tim was a Jones Day attorney and Diane was a nurse-attorney in the Cleveland firm's medical litigation group. Tim is a Geauga County Probate/Juvenile Court judge and Diane is a judge on the Eleventh District Court of Appeals.
Judges Stacy and Gary Cook met at a softball game in the summer of 1991 and have been married for 20 years. They are both judges on the Lucas County Common Pleas Court.
Judges Ron and Cynthia Westcott Rice met in their first year of law school and married two and a half years after graduation. Ron is a Trumbull County Common Pleas Court judge and Cynthia is a judge on the Eleventh District Court of Appeals.
Read more about these judicial couples in the February edition of CNO Review.

PDF files may be viewed, printed, and searched using the free
Acrobat
®
Reader
Acrobat Reader is a trademark of Adobe Systems Incorporated.