Law and Leadership Institute Students Compete in Showcase Event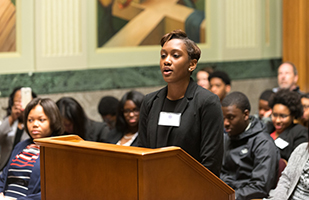 The Law and Leadership Institute's 2016 Academic Year Competition included students competing in a mock trial.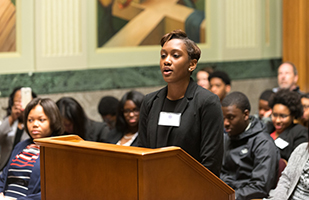 The Law and Leadership Institute's 2016 Academic Year Competition included students competing in a mock trial.
More than 200 Ohio high school students showcased their legal and educational talents at the Law and Leadership Institute's (LLI) 2016 Academic Year Competition. The competition at the Thomas J. Moyer Ohio Judicial Center in Columbus on March 19 included students in grades 9-12 from Cleveland, Cincinnati, Columbus, Akron, Toledo, and Dayton.
The third annual intra-LLI event featured a mock trial competition provided by the Ohio Center for Law-Related Education. Competing students assumed witness and attorney roles and argued both sides of a case in front of a panel of volunteer judges.
The event was the culmination of LLI's year-round intense legal and educational programming designed to foster vision, develop leadership skills and build confidence. Students prepared for the competition throughout the year by studying legal opinions and analyzing witness statements and legal briefs.
"We are excited to celebrate the talents and successes of our students during this event," said LLI Program Director Rachel Wilson. "This competition provides an invaluable opportunity for LLI students, staff, supporters and board members to witness the extensive hard work, dedication and preparation put forth by our students."
The competition also featured leadership and senior projects. Students presenting their Leadership Projects were tasked with identifying a problem or issue in their community and providing a solution and action plan to create positive change. The Senior Project competition was designed to actively engage students in the college application process by identifying strengths and weaknesses of various schools and the steps necessary to thrive academically.
The day's activities ended with a ceremony to recognize students in the top performing Mock Trial, Leadership Project and Senior Projects. Additionally, LLI honored its graduating seniors for their hard work in the program during the last four years.
The Law and Leadership Institute is a statewide initiative with the legal community that inspires and prepares approximately 350 high school students from underserved communities for post-secondary and professional success through a comprehensive four-year academic program in law, leadership, analytical thinking, problem solving, writing skills and professionalism. LLI is made possible, in part, by grants from the Ohio State Bar Foundation, the Ohio Supreme Court, the Law School Admission Council, and many public and private funders.