High School Students Tackle Timely Issue in Mock Trial Competition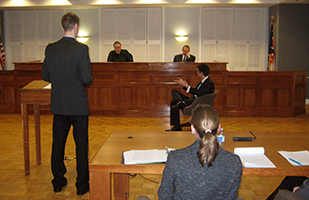 High school students assume the roles of witnesses and attorneys in the annual Ohio Mock Trial competition.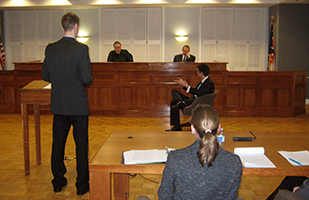 High school students assume the roles of witnesses and attorneys in the annual Ohio Mock Trial competition.
More than 3,000 high school students will enter courtrooms across the state today to take part in the Ohio Center for Law-Related Education's (OCLRE) 33rd Annual Ohio Mock Trial district competitions.
This year's case focuses on Fourth Amendment protection against unreasonable searches and seizures as it applies to use of force by an officer to deter or eliminate threat of harm to the officer or the public.
Competitions will be hosted in 27 counties and more than 1,000 legal professionals will serve as volunteer judges, competition coordinators and team advisors. Ohio Mock Trial is the state's largest high school academic competition and is among the largest high school mock trial programs in the nation.
Each Ohio Mock Trial team consists of five to 11 students who assume the roles of witnesses and attorneys to present both sides of an original case based on a constitutional issue. Each team will compete in two trials against opposing teams.
"In addition to teaching students how the U.S. Constitution is relevant to their lives, mock trial provides a unique opportunity for students to learn and practice analytic and research skills. Presenting a trial before a panel of judges and attorneys is an authentic experience they will carry with them throughout their lives," OCLRE Executive Director Lisa Eschleman said.
Teams that advance from the district competition will compete in the regional competition on Feb. 19. Regional winners will compete in the state championships on March 10-12 in Columbus for the chance to represent Ohio at the National High School Mock Trial Championship in Boise, Idaho in May.
Counties hosting Ohio Mock Trial district competitions are: Butler, Clermont, Columbiana, Cuyahoga, Delaware, Hamilton, Huron, Franklin, Hancock, Hocking, Lake, Licking, Lorain, Lucas, Marion, Medina, Montgomery, Pickaway, Richland, Scioto, Stark, Summit, Trumbull, Tuscarawas, Union, Washington, and Wood.
OCLRE is a private non-profit, nonpartisan organization whose goal is to improve society by developing citizens empowered with an understanding of our democratic system. OCLRE is sponsored by the Ohio Supreme Court, Ohio Attorney General, Ohio State Bar Association and the American Civil Liberties Union of Ohio Foundation. The Ohio Mock Trial program is funded in part by a grant from the Ohio State Bar Foundation.