Balance Tips to Women at Nation's Law Schools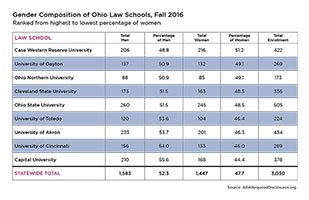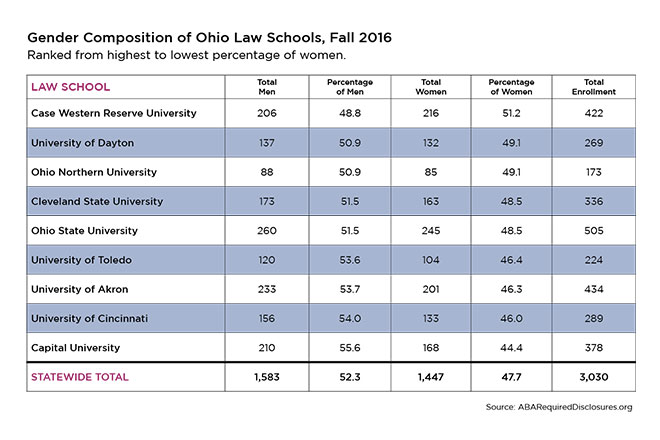 The year 2016 marked a notable landmark for women in the ranks of law schools nationwide. For the first time, women who were enrolled in juris doctor programs outnumbered men. Women's ranks reached 55,766 at accredited law schools, while men's totaled 55,059. Those numbers put women in a slight majority, at 50.32 percent.
In Ohio, only one law school – Case Western Reserve University School of Law in Cleveland – can say that women comprise more than half of its J.D. students. Case Western Reserve had 216 women and 206 men enrolled in its J.D. program in 2016, making women 51.2 percent of students – closely reflecting the female/male split in the U.S. general population.
The state's other eight law schools also hover around parity, ranging from about 44 to 49 percent women. (See chart.) In fact, law schools overall have had roughly equal numbers of men and women since 2001.
Case Western's Data
Dean Jessica Berg said Case Western Reserve also has had a fairly level male/female balance throughout the 2000s, while noting the 2016 as well as a 2015 female majority. Among first-year students only, Berg reported that men took the lead at the law school for 12 of the last 17 years, but women have been outnumbering men for the last three years.
She suspects that the university's strong science, technology, engineering, and math (STEM) undergraduate programs explain the general tilt toward more men at the law school during those years. As the number of women grew in STEM courses, Berg believes the law school benefitted by more women seeking law degrees too. Berg explained that although Case Western Reserve doesn't target women specifically when recruiting for the law school, some of its highly ranked specialties, such as health law and international law, may be attracting aspiring female lawyers.
Decades in the Making
Professor Deborah J. Merritt of Ohio State University Moritz College of Law said the shift to a majority of women in law schools is noteworthy and a fact to commemorate, but she sees a more complex picture beneath the statistic.
"What's most significant to me is how long it's taken for women to reach this milestone and that it's just 50 percent, given other data about women receiving undergraduate and graduate degrees," Merritt said.
She pointed out that Sandra Day O'Connor was appointed in 1981 as the first female justice on the U.S. Supreme Court, when women comprised more than a third of those working toward a law degree. It took 35 years to move from 1 in 3 students to levels that mirror the country's female majority, she noted.
"I do think law schools care about gender balance and gender equity, but it's not a primary driver," Merritt said. "They do want to be sure, though, that they're attracting talent."
More Women Seek Other Degrees
Interestingly, Merritt noted, research shows that women dominate now in obtaining other types of degrees. They earn 57 percent of undergraduate degrees, about 60 percent of master's degrees, and nearly 52 percent of the wide range of doctorates, which includes professional degrees such as medicine and optometry, according to 2013-2014 data from the National Center for Education Statistics.
"It seems that law schools aren't really reaching an important demographic in their applicant pool," Merritt said. She thinks law schools could benefit from identifying and talking to women undergraduates who decided against pursuing a J.D. to learn more about the reasons for their choices.
"We can speculate about why they aren't choosing law school in similar numbers to other graduate-level programs, but we don't know," she said.
Since 2010, combined enrollment for men and women seeking J.D.s has plummeted about 25 percent, according to statistics from the American Bar Association (ABA). Spurred by this decline, the Association of American Law Schools launched a project called "Before the JD" in 2016. Its leadership hopes to determine what factors cause potential law students to pursue or not pursue a J.D. degree.
A lawyer who runs a website called Associate's Mind noticed another possible dynamic when he analyzed enrollment data. Although fewer men and women are enrolling in law school, men's numbers have dropped 29 percent since 2011, while for women the decrease was less, at 18 percent.
Law school officials saw a glimmer of stability, however, last year. Enrollment of first-year students showed a slight uptick – 36 more students nationwide over 2015.
Entering and Exiting Law School
Meanwhile Merritt and Kyle McEntee, executive director of a non-profit group called Law School Transparency, have been delving into the data. The low number of women who currently work in the legal profession – only 36 percent, the ABA reported in April 2016 – is often cited, and this dip after law school has been dubbed by some as the "leaky pipeline." But Merritt and McEntee wondered whether something happens earlier on the path to becoming a lawyer that might lead to women's lagging representation later.
The disparity between women earning other degrees and those seeking J.D.s was one "leak" they uncovered in the statistics. They also found that in 2015 women applicants were less likely than men to be admitted to law school, by about 4 percentage points, and fewer women ended up with seats in the nation's top 50 law schools. To unravel why this happens, Merritt and McEntee examined several factors, including the role of law school admission test (LSAT) scores and undergraduate GPAs.
Both are critical indicators that law schools consider when reviewing applications, Merritt explains. Women typically earn higher GPAs as undergraduates than men, while men on average score higher on the LSAT. One might think that difference should even out the effect on admissions. But Merritt and McEntee suspect that coveted law school rankings assigned annually by U.S. News & World Report come into play in a way that favors men.
"Schools, especially those in the top half of the U.S. News ranking, stress LSAT scores over other admissions factors as they fight to maintain or improve their rankings. This disadvantages women, who have lower LSAT scores (on average) than men," their research summary stated.
Looking at the other end of the law school experience, the number of women who complete their J.D.s is unclear. The ABA annually collects reams of data from accredited law schools, including the gender and ethnic makeup at each school. The ABA also provides statistics about how many people earn J.D.s each year based on ethnicity, but a breakdown by gender isn't available to the public on ABARequiredDisclosures.org.
Dropoff in Legal Profession
As women continue toward legal careers, their numbers indicate some dwindling. At Ohio's nine law schools, women made up 47.7 percent of students in 2016. Although these law students aren't among the 942 people who passed the state's bar exam and were admitted by the Ohio Supreme Court to practice law last year, it may be a sign of concern that women accounted for 44.8 percent of new lawyers, about a 3 percent difference.
Further along the way, the gender gap widens to arrive at that 36 percent statistic for women practicing law.
Women also are underrepresented at the highest tiers of the profession. In 2016, women held 22 percent of partnership positions at law firms, represented 31 percent of law school deans, and comprised about a third of federal and state judges, according to several sources of data compiled and released in January by the ABA's Commission on Women in the Profession.
In the climate that law schools and their students face, Merritt and McEntee conclude that addressing the issues they've identified might help the nation's law schools boost their tumbling enrollment by attracting new, talented applicants. They also think stemming the loss of women at the start of the journey to becoming a lawyer could help keep more women in the pipeline, potentially bolstering their numbers in the profession later.

PDF files may be viewed, printed, and searched using the free
Acrobat
®
Reader
Acrobat Reader is a trademark of Adobe Systems Incorporated.