Conduct Board Files Disciplinary Reports and Recommendations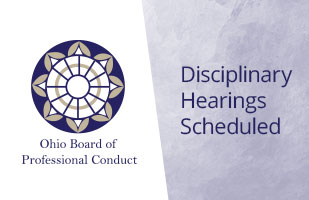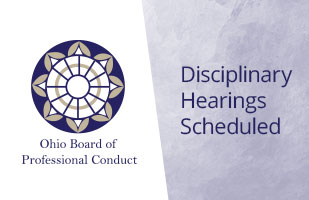 The Ohio Board of Professional Conduct today announced the filing of 16 disciplinary case reports with the Ohio Supreme Court.
Fifteen reports recommend discipline for attorneys charged with professional misconduct.
One report recommends discipline for a judge who violated the Code of Judicial Conduct.
The parties in each case will have an opportunity to file objections to the board's report and recommendation with the Court. If objections are filed, the case will be scheduled for oral argument. No oral argument is scheduled in reinstatement proceedings, and objections are not permitted in a case submitted upon consideration of a consent-to-discipline agreement.
Additional information about each case, including the report and recommendation, may be obtained by clicking on the link for each case. Questions regarding pending cases should be directed to the Office of Public Information at 614.387.9250.
Belmont County
Disciplinary Counsel v. David William Davis
Supreme Court Case No. 2018-1761
Recommended sanction: Public reprimand
Cuyahoga County
Cleveland Metropolitan Bar Association v. Matthew Joseph King
Supreme Court Case No. 2018-1762
Recommended sanction: Indefinite suspension
Disciplinary Counsel v. Brendan Edward Delay
Supreme Court Case No. 2018-1743
Recommended sanction: Indefinite suspension
Disciplinary Counsel v. Michael Joseph Cheselka
Supreme Court Case No. 2018-1764
Recommended sanction: Two-year suspension, one year stayed
Franklin County
Disciplinary Counsel v. Timothy Raymond Dougherty and Christopher Thomas Cicero
Supreme Court Case No. 2018-1766
Recommended sanctions: Two-year suspension, one year stayed for Dougherty; permanent disbarment for Cicero
Disciplinary Counsel v. Hon. Timothy Solomon Horton
Supreme Court Case No. 2018-1746
Recommended sanction: Indefinite suspension
Hamilton County
Cincinnati Bar Association v. Rodger William Moore
Supreme Court Case No. 2018-1758
Recommended sanction: Permanent disbarment
Cincinnati Bar Association v. John Hamilton Flessa
Supreme Court Case No. 2018-1756
Recommended sanction: Public reprimand
Disciplinary Counsel v. Christian Brian Domis (consent-to-discipline)
Supreme Court Case No. 2018-1753
Recommended sanction: Public reprimand
Cincinnati Bar Association v. Virginia Maria Riggs-Horton (consent-to-discipline)
Supreme Court Case No. 2018-1757
Recommended sanction: Six-month suspension, stayed
Lucas County
Disciplinary Counsel v. Frank James Simmons Jr.
Supreme Court Case No. 2018-1760
Recommended sanction: Two-year suspension, stayed
Lorain County
Disciplinary Counsel v. James Michael Burge
Supreme Court Case No. 2018-1759
Recommended sanction: One-year suspension, six months stayed
Montgomery County
Dayton Bar Association v. Anthony William Sullivan
Supreme Court Case No. 2018-1765
Recommended sanction: Two-year suspension, one year stayed
Stark County
Disciplinary Counsel v. Joan Patricia Selby (consent-to-discipline)
Supreme Court Case No. 2018-1754
Recommended sanction: One-year suspension, stayed
Warren County
Warren County Bar Association v. Andrew Jay Brenner (consent-to-discipline)
Supreme Court Case No. 2018-0822
Recommended sanction: Six-month suspension, stayed
Out-of-State
Disciplinary Counsel v. Thaddeus Matthew Bereday
Supreme Court Case No. 2018-1763
Recommended sanction: Indefinite suspension