Ohio Supreme Court's Judicial & Education Services Division Receives 2018 Jury Award of Excellence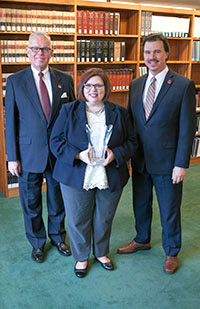 W. Milt Nuzum III (left), Director of the Judicial & Education Services Division, Dot Keil (middle), Education Program Manager with the Judicial College, Brian Farrington (right), statistics analyst with the Office of Court Services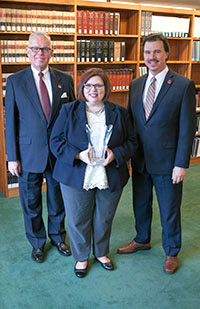 W. Milt Nuzum III (left), director of the Judicial & Education Services Division, Dot Keil (middle), education program manager with the Judicial College, and Brian Farrington (right), statistics analyst with the Office of Court Services
The Ohio Supreme Court's Judicial & Education Services Division was the recipient of the 2018 Award of Excellence from the Ohio Jury Management Association (OJMA).
The Award of Excellence recognizes the efforts and accomplishments of individuals and groups who have contributed in an exemplary way to promoting the OJMA mission to enhance excellent jury management in Ohio.
The Office of Judicial Services, part of the division, was honored for assisting OJMA in developing and distributing a statewide online survey on jury policies and practices. The use of an online format makes an involved project much more manageable and allows OJMA to better use limited resources.
"We are proud to serve the OJMA with Judicial College education and assistance with their surveys," said W. Milt Nuzum III, director of the Judicial & Education Services Division. "The work OJMA does is unique in the nation and is critical to guaranteeing our constitutional right in Ohio to fair and impartial jury trials."
"We have a great working relationship with OJMA and our staff is deeply grateful for the appreciation expressed by this award."
OJMA observed that the Judicial & Education Services Division has had a significant positive effect on jury service through jury-related educational programs for judges and court personnel.
"Without this extremely generous support, it is unlikely that a statewide educational conference focusing upon jury-related interests could be presented by OJMA," said David Ballman, OJMA president.
The Ohio Judicial College has presented numerous courses for judges, magistrates, and court personnel that provide information that can be used to significantly improve jury systems and the experience of the individuals called to serve as jurors.
The Supreme Court of Ohio Judicial & Education Services Division consists of the Office of Judicial Services and the Ohio Judicial College.