Ohio Disciplinary Professionals Discuss #MeToo Movement and Its Impact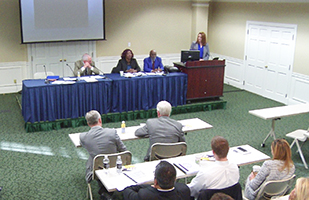 Ohio lawyers and judges discuss how the #MeToo movement affects the legal profession at OSBA.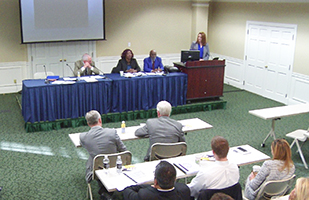 Ohio lawyers and judges discuss how the #MeToo movement affects the legal profession at OSBA.
As the #MeToo movement maintains its impact across the nation, the legal experts continue to weigh in on its effect on the profession.
More than 150 judges, lawyers, and non-lawyers who serve in roles in Ohio's lawyer disciplinary process met recently at the Ohio State Bar Association to discuss sexual harassment.
"This is a really fraught issue, and people don't like to talk about it," said former Cleveland Municipal Judge Ronald B. Adrine. "They don't like to think that it's happening, and they are uncomfortable when it's presented and have a tendency to hide from it."
The discussion was part of an annual professional responsibility seminar sponsored by the Miller-Becker Institute at the University of Akron Law School and the Ohio Board of Professional Conduct.
The panel of experts led an interactive discussion on issues confronting the legal profession in the #MeToo world, examining legal, practical, and ethical considerations.
"It just sparked a charge for people to have a conversation," lawyer Janica Pierce Tucker said. "There's a varying degree of what's appropriate to what becomes harassment in the legal sense. I think there's been a lack of education."
The panel used a series of vignettes from a recent Ohio Judicial College sexual harassment online course to demonstrate inappropriate behavior.
"I think it's really easy to spot the jerks. These people are obnoxious bores," Second District Court of Appeals Judge Jeffrey E. Froelich said. "You stay away from them and perhaps make excuses for them. But with all the things coming out of the media, we're seeing it's not that. It's not all the Harvey Weinsteins. It is the people doing things that are wrong, that are uncomfortable and inappropriate."
The panel also discussed a vignette in which a lawyer vows not to hire women because of the #MeToo movement.
"We do face the risk of negative impacts on how we treat women in the workplace and whether you may have an implicit bias," attorney and panelist Pierce Tucker said. "Now it's in the back of your mind, and you have both a man and woman who are qualified. Your bias may choose the male for that position."
In addition to the #Me Too discussion, attendees heard presentations on implicit bias, tips on practicing before the Board of Professional Conduct, the differences between legal malpractice and discipline, and a review of recent lawyer discipline cases.