Drug and Veterans Court Graduates Will Be Featured at Supreme Court Conference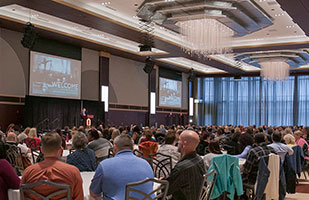 Specialized court graduates will share their stories at a conference at Ohio State University.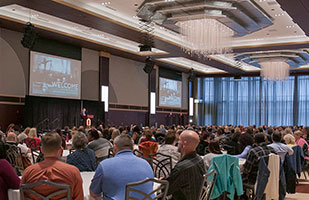 Specialized court graduates will share their stories at a conference at Ohio State University.
Four specialized court graduates will tell their recovery stories at the Ohio Supreme Court's Specialized Dockets Conference at Ohio State University on Oct. 11 and 12.
Tyler Srokowski, who successfully completed the Lorain County Adult Drug Court program, will relate how the opioid crisis affected his life and how he avoided jail time and received treatment through participating in a drug court.
Vanessa Perkins, a graduate of the Franklin County Human Trafficking Court, will tell attendees how the courts helped her escape a life of violence.
The conference, organized by the Court's Specialized Dockets Section, has drawn 650 people from across the state. The conference goals are to form a strong collaboration center, to foster effective communication, to help clarity roles, and to align program goals and judicial leadership.
Chief Justice Maureen O'Connor, the keynote speaker, said Ohio is a natural trailblazer in the realm of specialized dockets.
"We are leaders. We will continue to share our knowledge and experiences, not only with each other, but with other courts across the country," Chief Justice O'Connor said. "We've become both a laboratory and a clinic. We test theories. We apply our knowledge and experience for the benefit of our citizenry."
Ohio has 244 specialized docket courts, including 170 drug courts. The success of specialized dockets is demonstrated by reduced recidivism, improved treatment, and cost savings.
Clermont County Common Pleas Judge James Shriver and Stark County Common Pleas Judge Taryn L. Heather will serve as moderators of the opening session, which will focus on drug, veterans, and human trafficking courts.
As part of the afternoon breakout sessions, the conference will feature how the Summit County Common Pleas Adult Drug Court has implemented strategies to ensure their treatment team meetings align with best practices, strengthen collaboration, and effectively support program participants and their families.
The conference will also concentrate on the dangers of fentanyl, meth, and other 21st century designer drugs; their correlation to fatal overdoses; and how to make informed decisions that will promote successful outcomes among treatment court participants.
The conference will also draw attention to how courts can use artificial intelligence to find expert interpreters who can help give those who speak a different language access to the courts.
To learn more about the sessions, visit the conference website.