Specialized Dockets Will Take Center Stage at Supreme Court Conference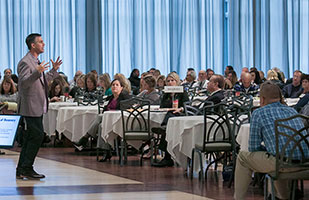 National and state experts will share new ideas for specialized dockets at a conference on Oct. 11 and 12.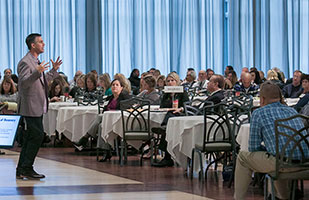 National and state experts will share new ideas for specialized dockets at a conference on Oct. 11 and 12.
Top experts in drug, veteran, and mental health courts will gather at Ohio State University on Oct. 11 and 12 to share ideas on how to improve care for those who get in trouble with the law while facing drug, alcohol, and mental health problems.
The conference, organized by the Ohio Supreme Court's Specialized Dockets Section, will bring together court and treatment personnel to work collaboratively to assist defendants with treatment instead of prison. The success of specialized dockets is measured by reduced recidivism, improved treatment, and cost savings.
Ohio Supreme Court Chief Justice Maureen O'Connor will welcome an expected room of 500-600 professionals from all over the state.
After an opening assembly, there will be 60 breakout sessions covering subjects such as bringing veterans out of the darkness and into the light, as well as mistakes drug courts make and how to fix them.
Panelists include:
Kimberly Anderson: chief legal counsel, State Medical Board of Ohio
D. Allan Asbury: senior counsel, Ohio Board of Professional Conduct
William Burton: manager of outcomes and community engagement, Maryhaven Addiction Stabilization Center
Steve Hanson: associate commissioner of treatment, New York State Office of Alcoholism and Substance Abuse Services
Judge Frank J. Janick: Lorain County Domestic Relations Court
Professor Diane Kurinsky: Antioch University New England
Victoria M. Marion: veterans justice outreach specialist, Cleveland Veterans Affairs Center
Dr. Erik Messamore: associate professor of psychiatry, Northeast Ohio Medical University
Dr. Brian L. Meyer: post-traumatic stress disorder substance abuse specialist, H.H. McGuire Veterans Administration Medical Center (Richmond, Virginia)
Dr. Bridgett E. Ortega: lawyer, assistant dean of experiential learning, John Marshall Law School (Atlanta)
William Parker: founder, American Court and Drug Testing Services
Lindsey N. Roberson: trial attorney, Human Trafficking Prosecution
Jenni Wai: chief pharmacist, State of Ohio Board of Pharmacy
Terrence D. Walton: chief operating officer, National Association of Drug Court Professionals
Meghan Wheeler: senior consultant, National Drug Court Institute
Dr. Nancy K. Young: executive director, Children and Family Futures
To learn more about the sessions and to register, visit the conference website.