Hundreds of New Ohio Lawyers Take Oath at Renovated Theatre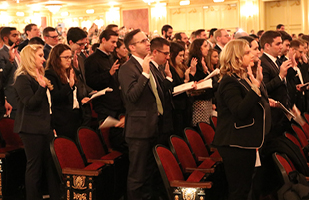 Nearly 600 new lawyers take the oath of office at the Palace Theatre in Columbus.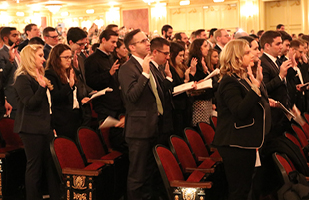 Nearly 600 new lawyers take the oath of office at the Palace Theatre in Columbus.
It served as a natural setting for new beginnings.
The renovated Palace Theatre in downtown Columbus recently hosted more than 589 new lawyers who took the oath of office to practice law in Ohio.
Ohio Supreme Court Chief Justice Maureen O'Connor served as emcee for the two ceremonies.
"I often reflect on how appropriate it is to be holding these ceremonies in a theater," Chief Justice O'Connor said. "After all, hasn't the couple of years of life been like a play? High drama, intense focus, tragedy, comedy, suspense, and then a happy ending."
Of the 885 applications who sat for the exam, 647 (73.1 percent) passed. Of the 734 first-time test takers, 82 percent received passing scores.
Justice Judith L. French gave the keynote address and offered advice to the new lawyers.
"You will be presented with change and opportunities that you can't imagine," Justice French said. "My advice is to welcome that change, not to fear it. And to consider each opportunity without fear of falling or failing."
After the ceremonies, the new lawyers visited the Thomas J. Moyer Ohio Judicial Center and registered as new attorneys.
Taylor Potts has been through this drill before. He's already licensed in West Virginia, but he needed to pass the Ohio exam.
"It was exciting. I'm working full-time already on top of my normal week," Potts said.
"My wife had a child in February so I was trying to squeeze studying in. It was a lot less stressful the second time because my career didn't depend on this. It's nice to know that I don't have to take another bar exam, knock on wood," he said.
Katelyn Dwyer, who works at a law firm in Toledo, is letting the experience all sink in.
"The ceremony went by really fast," Dwyer said. "The speeches were good. It was a long wait for the test results to come in. I was sweating it out, but it was quite the relief to get the good news, for sure. It's nice to have this celebration with my parents."
View a complete list of the names and addresses of the successful applicants.

PDF files may be viewed, printed, and searched using the free
Acrobat
®
Reader
Acrobat Reader is a trademark of Adobe Systems Incorporated.