Leader in Science and Diversity to Take Stage for Black History Month Event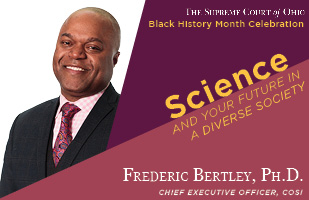 COSI Chief Executive Officer Dr. Frederic Bertley to speak at Black History Month Event.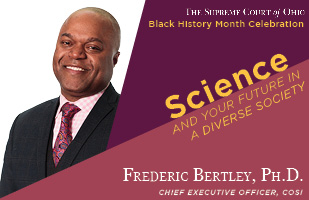 COSI Chief Executive Officer Dr. Frederic Bertley to speak at Black History Month Event.
An internationally known lecturer on education, Dr. Frederic Bertley, will be featured at the Ohio Supreme Court's annual Black History Month event Monday, Feb. 25 at 1 p.m.
Dr. Bertley is the chief executive officer of COSI, one of America's leading science centers. His sharing of visionary ideas on life and learning have received enthusiastic reviews from audiences at the White House, the United Nations, universities, TED talks, and at community outreach presentations here in Columbus.
"I am honored to be invited to speak at the Supreme Court of Ohio's Black History Month celebration," Bertley said. "COSI's mission is to engage, inspire, and transform lives and communities. I look forward to sharing some exciting and fun stories with the students to keep them motivated and inspired around science."
Prior to coming to COSI and Columbus, Bertley was senior vice president for science and education at the renowned Franklin Institute in Philadelphia. There, he directed a diverse portfolio of initiatives supporting STEM learning, science communication, and community partnerships.
Bertley is the founder and director of the "Color of Science," which highlights the impressive contributions of women and persons of color to modern-day science and engineering.
The recipient of a long list of honors, Bertley studied mathematics, physiology, and the history of science as an undergraduate student at McGill University, where he earned a Ph.D. in immunology. He went on to complete a post-doctoral fellowship at Harvard Medical School. His many accomplishments include work on basic vaccines and preventative medicine in developing nations, managing multi-national health care teams in Haiti, Sudan and the Canadian arctic.
The event is open to the public, but seating in the courtroom is limited. Please RSVP by Feb. 20 to forum@sc.ohio.gov or 614.387.9267.