Conduct Board Announces May Disciplinary Hearing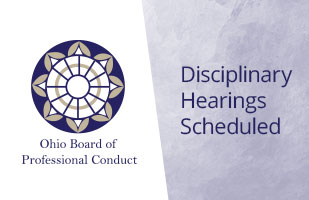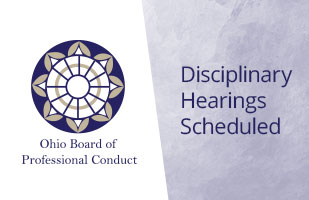 The Ohio Board of Professional Conduct has set its May schedule, with one hearing taking place before a three-member board.
The hearing will be open to the public via a videoconference link.
Hearings may be continued for good cause at any time. Contact the board at 614.387.9370 or BOCfilings@bpc.ohio.gov to confirm that a hearing will proceed as scheduled. Additional case information, including case documents, can be viewed and downloaded by clicking on the case number, below.
The hearing listed below will be conducted using remote video conferencing software. Anyone interested in observing the hearing in real time must contact the board at BOCfilings@bpc.ohio.gov in advance of the hearing to obtain a link. A recording of the hearing will be available after the hearing is concluded. May 4 (1:00 p.m.)
Disciplinary Counsel v. Hon. Michael Robert Goulding
Case No. 2020-007
Respondent's counsel: George D. Jonson, Cincinnati