June Disciplinary Hearings Announced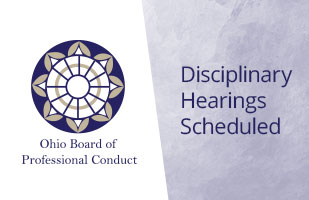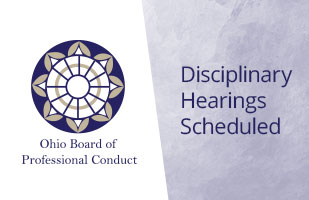 The Ohio Board of Professional Conduct today announced June disciplinary hearings involving attorneys and judges charged with professional misconduct.
All hearings take place before a three-member panel of the board using video teleconferencing software, and are open to viewing by the public. To obtain a link to observe a specific hearing, contact the staff of the board via email at BOCfilings@bpc.ohio.gov at least one business day prior to the hearing.
Additional case information, including case documents, can be viewed and downloaded by clicking on the case number, below. Hearings may be continued for any reason. Check the online docket to confirm that a hearing will proceed as scheduled.
June 1
Reinstatement of Christopher Ramon Bucio; Disciplinary Counsel, Relator
Case No. 2015-053
Petitioner's counsel: David C. Greer, Dayton
June 3
Stark County Bar Association v. Paul Michael Kelley
Case No. 2019-056
Respondent's counsel: none
Columbus Bar Association v. Addison Tierney Bare
Case No. 2019-013
Respondent's counsel: none
June 4
Columbus Bar Association v. Lawrence Edward Winkfield
Case No. 2019-042
Respondent's counsel: David P. Williamson, Dayton
June 17
Lorain County Bar Association v. Kenneth James Lewis
Case No. 2020-009
Respondent's counsel: none
June 18-19
Disciplinary Counsel v. Christopher James Burchinal
Case No. 2018-049
Respondent's counsel: Alvin E. Mathews, Jr., Columbus
June 22
Columbus Bar Association v. Michael Dean Christensen
Case No. 2020-002
Respondent's counsel: George D. Jonson, Cincinnati
June 22-23
Columbus Bar Association v. John Joseph Okuley
Case No. 2019-029
Respondent's counsel: none
June 23
Disciplinary Counsel v. Jennifer Dawn Petracci
Case No. 2019-060
Respondent's counsel: Keith E. Young, Canton
June 26
Disciplinary Counsel v. Richard Barbera
Case No. 2019-052
Respondent's counsel: none
June 29
Cincinnati Bar Association v. Rodger William Moore (on remand)
Case No. 2013-015
Respondent's counsel: none