January Disciplinary Hearings Announced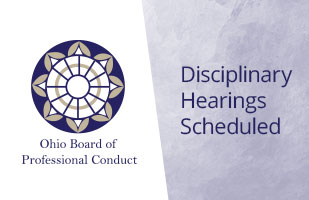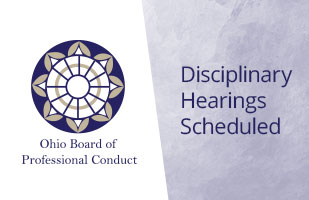 The Ohio Board of Professional Conduct today announced five January disciplinary hearings involving attorneys. All hearings take place before a three-member panel of the board, are open to the public, and will be conducted via video teleconference using the links provided.
Additional case information, including documents, can be viewed and downloaded by clicking on the case number. Hearings may be delayed for any reason. Check the online docket to confirm that a hearing will proceed as scheduled.
Except where noted, all hearings begin at 9 a.m.
January 7
Columbus Bar Association v. Eric Alan Jones
(Note: 10 a.m. start)
Case No. 2020-041
Respondent's counsel: Charles J. Kettlewell, Columbus
Hearing link:
https://zoom.us/meeting/register/tJMqduqtrTorGN2uLrB0MRUhoEtZtuhqaaVP
January 12
In re Reinstatement of Rosel Charles Hurley III; Cleveland Metropolitan Bar Association, Realtor
(Note: 10 a.m. start)
Case No. 2017-001
Petitioner's counsel: None
Hearing link:
https://zoom.us/meeting/register/tJ0tcu2qpjwpE9ZwYRpaFUHVx4O1JEnZmpJw
January 13
Disciplinary Counsel v. Katharina Eileen Devanney
Case No. 2020-056
Respondent's counsel: None
Hearing link:
https://zoom.us/meeting/register/tJEvce-ppjoqH9XzlPoBTlb0Lmucmnl3AYsw
January 15
Disciplinary Counsel v. Steven Edward Hillman
Case No. 2020-042
Respondent's counsel: None
Hearing link:
https://zoom.us/meeting/register/tJUuf-6vqjMsGtaS_GvJjOGTIQosCKInvFin
January 29
Columbus Bar Association v. Michelle Lyn Polly-Murphy
Case No. 2020-047
Respondent's counsel: Jonathan E. Coughlan, Columbus
Hearing link:
https://zoom.us/meeting/register/tJMkd--trTMuH9zg2Vsff6N8JiQe25cQPSRY