Conduct Board Files Disciplinary Reports and Recommendations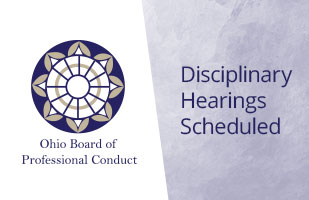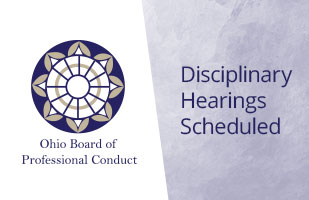 The Ohio Board of Professional Conduct has filed six disciplinary case reports with the Ohio Supreme Court.
Four reports recommend discipline for each of four attorneys charged with professional misconduct.
One report recommends reinstatement of an attorney who is currently suspended.
One report contains findings made pursuant to a remand order from the Court.
The parties will have an opportunity to file objections to the board's reports and recommendations with the Court. If a party files objections, the Court will schedule the case for oral argument. Objections are not permitted in a case submitted upon consideration of a consent-to-discipline agreement, and oral arguments are not scheduled in reinstatement proceedings.
Additional information about each case, including the report and recommendation, may be obtained by clicking on the Court case number. Questions regarding cases pending before the Court should be directed to the Office of Public Information at 614.387.9250.
Champaign County
Reinstatement of Christopher Ramon Bucio, Petitioner; Disciplinary Counsel, Relator
Supreme Court Case No. 2017-0800
Recommendation: Grant petition for reinstatement.
Franklin County
Columbus Bar Association v. Addison Tierney Bare
Supreme Court Case No. 2019-0553
Recommended sanction: Conditions recommended for reinstatement from interim suspension; six-month suspension, stayed, recommended upon reinstatement.
Hamilton County
Cincinnati Bar Association v. Rodger William Moore
Supreme Court Case No. 2014-1737
Board findings: Board reports findings to the Supreme Court and concludes the relator failed to prove allegations contained in its second motion for contempt.
Lorain County
Lorain County Bar Association v. Kenneth James Lewis
Supreme Court Case No. 2020-0971
Recommended sanction: Two-year suspension.
Stark County
Stark County Bar Association v. Paul Michael Kelley
Supreme Court Case No. 2020-0970
Recommended sanction: Two-year suspension, stayed.
Wayne County
Disciplinary Counsel v. Jennifer Dawn Petracci
Supreme Court Case No. 2020-0974
Recommended sanction: Indefinite suspension.