Conduct Board Releases 2019 Annual Report
Caption.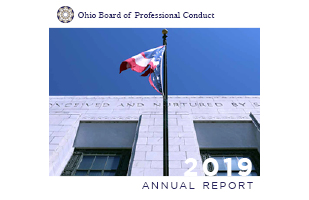 Ohio Board of Professional Conduct Issues 2019 Annual Report.
The Ohio Board of Professional Conduct has issued its 2019 annual report, highlighting the disposition of 69 disciplinary cases, greater efficiency in case processing, and further efforts to make attorney disciplinary proceedings more transparent.
The 69 case dispositions included 53 cases in which the board filed reports with the Supreme Court recommending the imposition of discipline against an Ohio attorney or judge. The board conducted 49 panel hearings, spanning 53 days, and held six meetings to review reports from hearing panels and board committees. One of the disciplinary hearings was a two-day proceeding conducted at the University of Toledo Law School in November. 
In January 2019, the board began offering an electronic filing option to parties in disciplinary cases. More than 630 documents were submitted via the e-filing system, greatly reducing the costs of disciplinary proceedings and streamlining the board's docketing and case processing responsibilities.
The board's online case docket, unveiled in 2017, drew more than 3,000 individual page views each week. The online docket provides the public with real-time access to and information about the status of disciplinary proceedings. Ohio is recognized nationally as a model for providing public access to attorney discipline information, and is the only jurisdiction to provide online access to case documents in pending disciplinary proceedings.
The board issued 12 formal advisory opinions in 2019, and its staff made 31 education presentations across Ohio to attorneys, judges, magistrates, judicial candidates, and law students.
"The 2019 annual report reflects the devotion of the 28 volunteer commissioners to promoting high standards of professional ethics and protecting the public from judges and lawyers who fail to comply with those standards," said Richard A. Dove, director of the board.
The Board of Professional Conduct is a quasi-independent body responsible for assisting the Ohio Supreme Court in its constitutional obligation to regulate the practice of law. The board consists of 28 volunteer commissioners, appointed by the Supreme Court, and employs a staff of four. The activities of the board are funded entirely by attorney registration fees assessed by the Supreme Court.