June Disciplinary Hearings Announced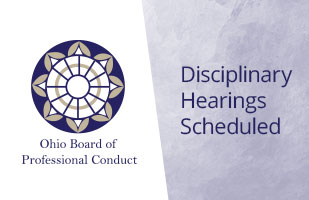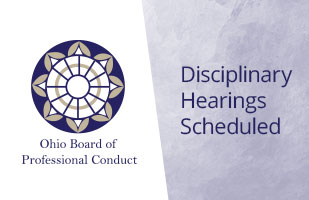 The Ohio Board of Professional Conduct today announced five June disciplinary hearings. All hearings take place before a three-member panel of the board, are open to the public, and will be conducted via video teleconference using the links provided.
Unless otherwise noted, the hearings begin at 10 a.m.
Additional case information, including documents, can be viewed and downloaded by clicking on the case number. Hearings may be delayed for any reason. Contact the Board at 614.387.9370 to confirm that a hearing will proceed as scheduled.
June 2
Medina County Bar Association v. Andrew Charles Schriver
Case No. 2020-079
Respondent's counsel: None
Hearing link:
https://zoom.us/meeting/register/tJEkfuiqqj4tH9V0CjH2SC7_fLGxK_6q30n_
June 3
Columbus Bar Association v. Christian Manning Family
Case No. 2020-076
Respondent's counsel: Alvin E. Mathews, Jr., Columbus
Hearing link:
https://zoom.us/meeting/register/tJUqf-GpqDguH9d0l1aO3--Kx3_uXFQG_PFr
June 8 and 15
Medina County Bar Association v. Russell Anthony Buzzelli
9 a.m. start both days
Case No. 2021-001
Respondent's counsel: Larry H. James, Columbus
Hearing link:
https://zoom.us/meeting/register/tJEsfumrpjMpHNBAcbX6LbfcO8HGC-Rdl_JG
June 25
In re Probation Revocation of Scott Nicholas Blauvelt; Butler County Bar Association, Relator
9 a.m. start
Case No. 2019-028
Respondent's counsel: Daniel J. Hurr, Hamilton
Hearing link:
https://zoom.us/meeting/register/tJEkd-GupjooHdDHTUd-QrjQVtUtIy-wZk6H
June 29
Disciplinary Counsel v. Hon. Thomas Mark O'Diam
Case No. 2021-006
Respondent's counsel: Joseph W. Borchelt, Cincinnati
Hearing link:
https://zoom.us/meeting/register/tJ0uc-qhqD0tHtz7EkYpbR82ALube2oeeIQj