Supreme Court Headed to Fayette County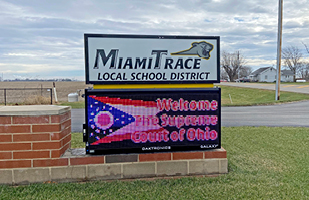 Fayette will be the 72nd county to host the Supreme Court's Off-Site Court.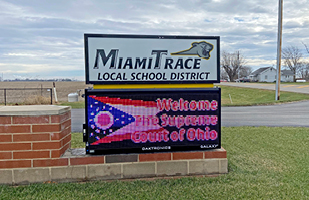 Fayette will be the 72nd county to host the Supreme Court's Off-Site Court.
The Supreme Court of Ohio will travel to Fayette County for the first time as part of its Off-Site Court Program, which allows students and the public to learn firsthand about the judicial branch of government.
On April 27, students from Miami Trace High School, Washington High School, and Fayette Christian School will attend the Supreme Court's oral arguments.
At this special Court session, which will be held at Miami Trace, Chief Justice Maureen O'Connor and Justices Sharon L. Kennedy, Patrick F. Fischer, R. Patrick DeWine, Michael P. Donnelly, Melody J. Stewart, and Jennifer Brunner will hear arguments in three cases.
Students who observe the first oral argument will meet with the justices for a question-and-answer session before that hearing. After each case, students will have the opportunity to discuss it with the attorneys who argued in front of the Court. To help the students prepare for this event, the Court's civic education staff provides students and teachers with educational materials, including case summaries, to study beforehand.
The cases scheduled for argument are State v. Weaver, State v. Schubert, and State v. Sanford.
Fayette County Common Pleas Judge Steven Beathard extended the invitation to the Supreme Court. Common pleas court administrator Carmen Baird and clerk Sandy Wilson are helping to coordinate the event.
To date, the Court has traveled to 71 of Ohio's 88 counties as part of the program, enabling 42,266 Ohioans – including 33,362 students – to witness its sessions in person. The event is held twice a year.