Reducing Court Backlogs, Restoring Lives are Priorities for Chief Justice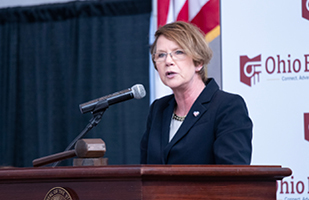 Chief Justice Sharon L. Kennedy spoke to those gathered at the Ohio State Bar Association Annual Meeting.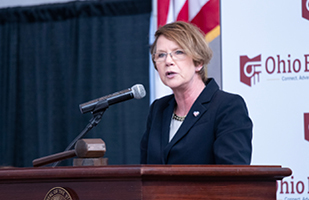 Chief Justice Sharon L. Kennedy spoke to those gathered at the Ohio State Bar Association Annual Meeting.
The justice system can improve when lawyers work with courts to reduce case backlogs and improve services for those involved in the criminal justice system, Chief Justice Sharon L. Kennedy told leading members of Ohio's legal community.
Speaking at the Ohio Bar Association Annual Meeting, Chief Justice Kennedy applauded the  association for working with the courts and the legislature to strengthen legal services. She encouraged lawyers to get involved in three of her top priorities — resolving old cases, helping those reentering life from jail or prison, and getting veterans services they need.
"All of us should work to help veterans who face criminal consequences because of the invisible wounds of war that they suffered in service to us," Chief Justice Kennedy said. "To achieve this in Ohio, we call on law enforcement professionals and prosecutors to step forward and help create a safety net for those who have served and sacrificed so much for America."
Before becoming the Court's leader in 2023, Chief Justice Kennedy worked with the bar association and an interdisciplinary group of partners to improve the lives of veterans involved in the justice system. She said the partnership has helped grow the number of veterans' treatment dockets in Ohio from seven to 29, and credited the bar association members for making it possible.
Courts Play Role in Restoring Lives
However, the need to help veterans is increasing. The chief justice noted that Ohio has grown from the sixth to the fifth largest population of veterans in the nation. After they leave the service, they can be at risk from those wounds of war. Veterans commit suicide at a rate of 17 per day, she told the group. The goal of the state's "Intercept 0, Intercept 1" initiative is to prevent veterans from entering the criminal justice system by diverting them into programs where treatment is available. She told lawyers practicing criminal law to ask their clients if they have served in the military, and to press their local courts to add a specialized docket for treating veterans.
Helping veterans restore their lives coincides with the need to bring new hope to those reentering their communities after serving criminal sentences. The chief justice said the first task force she established was the Reentry Task Force, to focus on identifying the tools and services needed by those leaving prison to succeed.
"The Reentry Task Force is not about a lack of taking responsibility. It is about helping people who have taken responsibility and who need help to live a life restored," she said.
Backlog Reduction Assistance Available
As she has traveled across Ohio, Chief Justice Kennedy said she has heard much about over-age cases, which haven't been resolved under expected time standards, and case backlogs plaguing trial courts. The Supreme Court is increasing and enhancing services to help local courts analyze their case backlogs and find ways to reduce them.
She also suggested attorneys advocate for "Settlement Week" in their courts. During settlement weeks, parties agree to work to bring cases to conclusion.
And the chief justice said that when asked to assign judges to help with an overburdened trial court docket, she will insist that the oldest cases on the docket are cleared first.
Chief Justice Kennedy touched on other topics of concern to the Ohio legal community. She applauded the General Assembly's passage of the Rural Practice Incentive Program, which will reduce student loan debt for lawyers who commit to practicing in underserved rural areas.
As she looks ahead in her term leading the court, the chief justice told the association she is inspired by the song "Feeling Good," "It's a new dawn, it's a new day. It's a new life for me, and I'm feeling good," she said.