Opening Opportunities
Expanding diversity is an ongoing aspiration of the legal profession. In Cleveland, the Stokes Scholars Program is part of a pipeline of programs to identify and encourage youth who are interested in careers in law.
Seeking to improve the representation of minorities in the legal profession and surmount disparities that inhibit students from pursuing law, the Cleveland Metropolitan Bar Association (CMBA) launched the Louis Stokes Scholars Program in 2012. Named for the accomplished Cleveland lawyer who served 30 years in the U.S. House of Representatives, the initiative is one of a series of CMBA programs for students in high school, college, and law school.
Students graduating from Cleveland Metropolitan School District and East Cleveland high schools or those enrolled in college who graduated from those high schools can apply to become Stokes Scholars. If accepted, they are placed in paid legal internships with Cleveland law firms, courts, or legal nonprofits for a summer. The scholars commit to working 20 hours per week for eight weeks. Each scholar is matched with a lawyer-mentor, who guides the student through the summer experience and agrees to stay connected through college and often into law school and beyond. The scholars – of whom nearly all are first-generation college students – benefit from the program's group activities, such as field trips to courts and law schools, public speaking and writing seminars, a Law School Admissions Boot Camp, and meetings with community leaders. The program's impact is lasting.
"We have a saying that holds true, 'Once a Stokes Scholar, Always a Stokes Scholar,'" said Mary Groth, the bar association's director of member and donor engagement. "We stay in contact with our alumni scholars, no matter what career path they have taken. They have formed a strong cohort – with many of them giving back to their younger peers through the program as volunteer leaders and mentors."
The program boasts 88 scholars to date. A few former Stokes Scholars are graduating from law school this year and five former scholars are currently contributing their legal savvy to Cleveland law firms. They shared their stories and thoughts about the profession of law.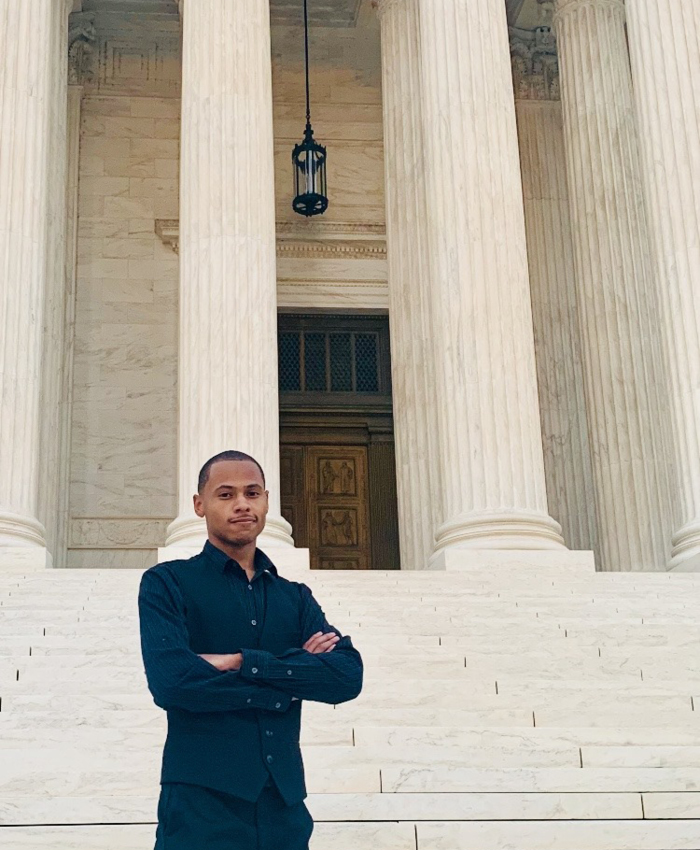 Xavier Thomas-Hughes
Student
Georgetown University Law Center
"It goes a long way when the legal field begins to resemble the communities it serves. It really helps restore confidence in the legal system."
Xavier Thomas-Hughes' grandparents live near Washington, D.C. When Thomas-Hughes was a child, they would take him to see the typical sites and monuments – the White House, the U.S. Capitol. Those visits planted a seed that grew into a love of history and blossomed into an interest in politics and law.
But he didn't think of pursuing law as a career until his high school guidance counselor told him in his senior year about the CMBA's Stephanie Tubbs Jones Summer Legal Academy. He was accepted. He researched legal issues, wrote motions, and argued his motions before sitting judges. He spoke with attorneys and judges about their experiences and how lawyers can impact society.
Once in college, he was accepted into the Stokes Scholars program – working one summer in the Cuyahoga County Common Pleas Court and another in the Cuyahoga County Prosecutor's Office. He loved the practical work of researching case law and forming arguments in written memos, especially in the prosecutor's office.
"I was a junior in college, and I was on LexisNexis doing legal research and writing a memo on the Ohio rules of evidence for an active case," Thomas-Hughes said. "I thought that was pretty cool. It showed the program's and prosecutors' confidence in me and helped instill confidence in myself that I can do this type of work. … By the end of my second summer, I was pretty firm about going to law school."
Now at the Georgetown University Law Center, he has spent half his time learning law during a pandemic. It surely has been novel, but Thomas-Hughes has adapted.
"Zoom fatigue is definitely a thing, but professors seem to be flexible and understanding to students," he said. "I try to schedule my day to keep up with my readings and assignments. I try not to stress too much about it, knowing that tomorrow is always a new day. The weather in D.C. is starting to get nice, so I'm looking forward to going out for more walks and socially distant meetings with friends."
The self-described "unapologetic history nerd" enjoys watching documentaries and reading books about American history.
"Currently, I am in love with the CNN docuseries about Abraham Lincoln."
What issue does the profession he is excited to join need to tackle? Representation, he said.
"It goes a long way when the legal field begins to resemble the communities it serves," he notes. "It really helps restore confidence in the legal system and hopefully pushes the legal community to confront its bigger and difficult shortcomings."
Michael Watkins
Student
Cleveland-Marshall College of Law
"Taking time to reflect, understand, and connect with ourselves is the first step to any substantial change. Gandhi said it best: 'Be the change you want to see in the world.'"
Diversity. Inclusion. Equality. Justice. These are what Michael Watkins wants to see in the legal profession.
"There are hundreds of years of oppression, repression, and injustice that surrounds our government and the field of law," Watkins said. "If the injustices of our country were adjusted to fit the needs of all Americans – and not just those who are privileged or entitled – we would be more unified and sustainable as a nation."
Watkins found his way to law school from his East Cleveland high school, where he joined the mock trial team. He said the topics the team covered, along with learning courtroom procedures, intrigued him. The exposure gave him hope that he could pursue a career in law, he said. Today Watkins, who is passionate about environmental law, is pursuing an M.B.A. simultaneously with his law degree.
He demonstrates a commitment to giving back as a volunteer. At the East Cleveland Neighborhood Center, Watkins teaches fourth through sixth graders about social and emotional wellness, anti-bullying, gun safety, and drug and alcohol abuse prevention.
Quoting Mahatma Gandhi, Watkins said he believes that big, systemic change begins with each individual looking inward.
"Taking time to reflect, understand, and connect with ourselves is the first step to any substantial change. Gandhi said it best: 'Be the change you want to see in the world.' And external change can only happen when we go inward," Watkins explains.
He puts these ideas into action personally every day. He practices yoga, meditates, and explores the outdoors.
"I deeply believe that if everyone began the process of self-awareness, we as a society can only become more unified and sustainable."
During the pandemic, Watkins has found he yearns for one of the most hated, and intimidating, features of law school.
"I feel strange saying this, but I miss the Socratic method," he said.
He described the intense questioning as a way to connect with his professors to better grasp the material. He also feels the loss of the in-person interactions with faculty, staff, and other classmates – "the brief conversations before class with my classmates to talk about the course material and the conversations after class reflecting on the lecture."
However, the altered universe has its upsides, too.
"Personally, this pandemic has driven me to dive deeper in my studies, engage more in extracurricular activities, and appreciate this amazing opportunity I have of attending law school and pursuing my dreams."
His experience as a Stokes Scholar enabled him to reach toward his dreams. Most beneficial to him, he said, were his mentors, who continue to support him now.
"Consistently connecting with my mentors and gaining their invaluable wisdom and guidance has been exceptional," Watkins said. "My mentors are supportive, aware, and always find ways to invest in my success. They have assisted me with employment opportunities, law school, and overall life."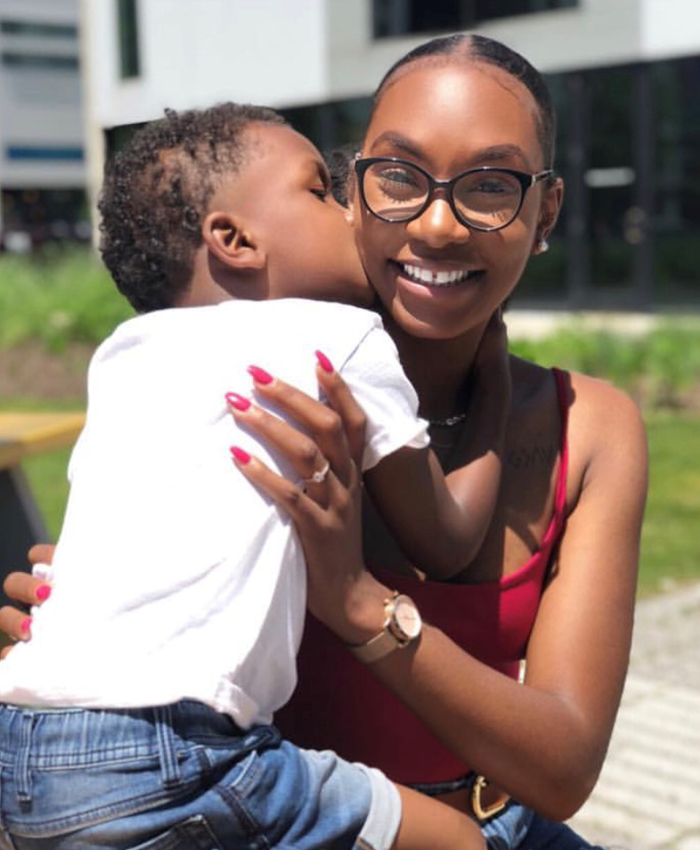 Tiana Bohanon
2020 Graduate
Case Western Reserve University School of Law
"As lawyers, I do not think there is such a thing as free time. We have to make time for the things we love and enjoy."
Last year was anything but typical for the thousands who graduated law school. In Ohio, no sounds of classical music were piped through one of the ornate Columbus theaters while filled with hundreds of graduates and their families celebrating together. Instead there were rescheduled bar exams and bumpy starts to long awaited legal careers. For Tiana Bohanon, "the uncertainty was almost paralyzing."
Despite disappointment and worry, Bohanon seized the opportunity to practice law under the Court's temporary supervised practice status in 2020. Now as a fully fledged lawyer, she's learning the ropes of the legal profession within the restrictions of social distancing.
"Before, I was able to go to court often for pretrials and have in-person negotiations with prosecutors. Now, almost all in-person court proceedings are suspended and are being conducted via Zoom or telephone conference," she said. "It is more difficult to build relationships with parties, the judge, and court personnel."
The value of networking and building relationships was impressed upon her when she was a Stokes Scholar in college. As an undergrad, Bohanon reconnected with a law professor she met while in high school. Fast forward to law school where Bohanon took a clinic from the professor, who helped the student secure a job she wanted over one summer.
"Today, she is someone I call and vent to," Bohanon said. "She has provided so much guidance in my career thus far."
Also, while interning at the Cuyahoga County Common Pleas Court as a Stokes Scholar, Bohanon talked with judges, prosecutors, and defense attorneys. Those interactions solidified her commitment to practice law, in particular criminal law. She even had the chance to meet the program's namesake, Louis Stokes, the first African American to represent Ohio in the U.S. Congress. She said it was "an honor and a privilege" to meet a fellow Clevelander who became a lawyer and dedicated his career to civil rights.
"He was proof that I, too, could make a difference," Bohanon noted.
What propelled her initially toward law was participating in mock trials as a high school student. And her experiences growing up in East Cleveland, where she saw police misconduct and injustices and wanted to be a part of change, she said. But it took a little push.
"I knew I thoroughly enjoyed mock trial, but I did not think being a real lawyer, in real life, was achievable," she said. "It took an entire village to convince me that the journey was worth taking."
Asked about her free time, the young lawyer and mother of an 8-year-old balked.
"As lawyers, I do not think there is a such thing as free time. We have to make time for the things we love and enjoy," she notes.
And that time for her revolves around her son – visiting the park, watching movies, and heading to Lake Erie to watch the sunset.
"I went back to school when he was 9 months old, so his entire life I've been pursuing this dream of mine," she said. "Now that I have achieved it, I feel obligated to show him why both of our sacrifices were worth it."
Brandon Brown
2017 Graduate
Cleveland-Marshall College of Law
"We must be deliberate about cultivating diverse talent and putting them in positions to lead and succeed."
High school mock trial was how Brandon Brown found his way to law. Brown said he enjoyed preparing for trial, and that enjoyment was reinforced when the team at John Hay Early College High School won back-to-back championships.
"After that I was hooked," he explained.
At Oberlin College as a theater arts major, he was named a Stokes Scholar. That opened doors to opportunities at the Cuyahoga County Prosecutor's Office and the Eighth District Court of Appeals.
The front-row view of the legal profession instilled confidence and clarity.
"Working in those places showed me that I belonged in those environments," Brown said. "That feeling is especially important as a Black man in an overwhelmingly white profession."
Noting that the disparities in legal profession's diversity becomes more pronounced at the level of judges or law firm partners, he wants to see the demographics of the "leaders and gatekeepers of justice" reflect the demographics of the communities they serve.
"We must be deliberate about cultivating diverse talent and putting them in positions to lead and succeed," Brown states.
It's not just talk or an abstract hope for Brown, who displays a strong pay-it-forward attitude. He volunteers as a moot court coach at Cleveland-Marshall and as a mock trial coach at his former high school, and even chairs the Stokes Scholars Program advisory committee.
When he takes a break, the "nerd at heart" reads comic books and plays video games as a reprieve from a demanding profession. The one-time theater major thinks about returning to the stage, too, where there's an "indescribable" dynamic between the performer and the audience and a unique collaboration among the playwright, actors, director, and designers to build a world for the audience.
He continues to revel in his chosen profession, particularly the "the chess game of litigation."
"The puzzle is what continues to draw me in. Taking a set of facts and finding clever ways to reconcile those with the law to get a favorable outcome has been the spark of my interest since day one," he said. "It can be demanding and frustrating, but also quite rewarding."
LaQues Harrison
2019 Graduate
Ohio State University Moritz College of Law
"Most of the learning for new attorneys happens on the job. We have to do a better job of preparing our new attorneys for what they can actually expect in the field."
The performing arts also became an early passion for LaQues Harrison. Now a litigator and once a teacher, Harrison was a drama major at a Cleveland performing arts school as a youth. Today, she works on product liability and business litigation in the service, automotive, consumer products, and chemical manufacturing industries. She said the art of storytelling helps in practicing law.
"With litigation, the stories and background facts are always intriguing and, in some instances, mind-blowing," Harrison said. "The art of persuasion and storytelling is mandatory for success, and the ability to captivate and persuade have quickly become my favorite aspects of practice."
She said it's been challenging, however, to adapt from physically stepping into a courtroom or a meeting to interacting via online hearings during the restrictions necessitated by COVID-19.
"The experiences I crave most have been virtual due to the pandemic, which takes away much of the excitement," she noted. "Virtual depositions, court conferences, interviews, presentations, et cetera — all of the 'big deal' moments – seem much smaller now."
But her personality is well-suited to where she has landed.
"I enjoy public speaking, engaging others, performances, and presentations," Harrison said. "Fortunately, in litigation, I still have an opportunity to perform through trials, depositions, mediations, and various presentations."
The first-generation college graduate said the Stokes Scholars Program exposed her to the legal community – touring courtrooms, talking with judges, watching attorneys work – making a legal career feel within reach.
"It is one thing to be encouraged and supported by your family members, and to earn good grades in school, but to be encouraged and supported by attorneys and judges meant a bit more for me," she explained. "It was the practical encouragement that I needed to legitimately believe that a career as an attorney or judge was a real possibility."
She thinks law schools should focus more on practical skills, noting that she learned most of her day-to-day tasks at the law firm. She suggests that the third year of law school should be replaced with an externship, similar to a medical school residency.
"While law school is great for teaching you the history and philosophy behind many of the doctrines, most of the learning for new attorneys happens on the job," she said. "We have to do a better job of preparing our new attorneys for what they can actually expect in the field."
Harrison has purchased a house, and DIY projects have become her latest hobby. She recently renovated her closets, installing new shelving and fun wallpaper. It's been a relaxing diversion filled with the fun of power tools.
"The manual labor is very different from my day-to-day work and exercises the creative side of my brain."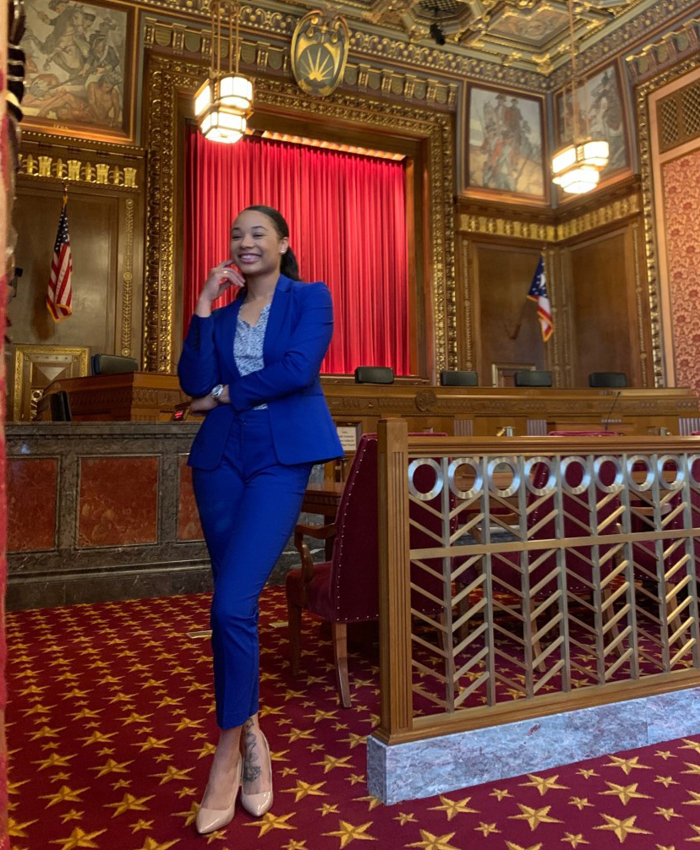 Jzinae Jackson
2018 Graduate
Cleveland-Marshall College of Law
"My mentors told me to be prepared, work hard, and speak up if I needed help."
The value of acting as a legal advocate became clear to Jzinae Jackson when she interned in college as a Stokes Scholar at the Cuyahoga County Domestic Relations Court. Jackson worked on domestic violence cases, helping people seeking civil protection orders. Just having the chance to sit in on hearings and to observe how magistrates evaluate petitions for civil protection orders was educational. She also guided individuals seeking protection through the process by assisting with court filings and directing them to community resources.
"It was rewarding that I had a hand in protecting them from danger – and being able to make a difference," Jackson said.
She participated in all of the CMBA's pipeline programs and found herself drawn to the excitement of litigation. The experiences allowed her to see that she had a skill that she could develop into a career.
"I loved the fast pace, and presenting a story," Jackson explained.
After graduating law school and passing the bar exam, she found a job as a litigator, now advising clients on labor and employment issues, arguing before adjudicators, and studying evidence from different perspectives to land on the best strategy for her clients, she said. For relaxation, she travels.
"Traveling provides me with inspiration and keeps my mind fresh," she said.
Jackson points to the Stokes writing workshop as having an immense impact on her professional development.
"We had to learn how to be very detailed and concise. To use active voice versus passive. And to really take heed to the fundamentals of writing – such as proofreading and outlining arguments," she said.
She also showers praise on the tight-knit legal community in Cleveland, noting that local attorneys are very supportive of rising lawyers. The first in her family to graduate from college and professional school, Jackson credits her mentors in the Stokes program with enabling her to see what was possible for her. They coached her in her role as a domestic relations intern, explained the work needed to get admitted to law school, and, overall, advised her on how to navigate the legal profession.
"They told me to be prepared, work hard, and speak up if I needed help," Jackson said.
She is grateful to have her mentors, who are also women of color, as a support group.
"Simply put, exposure and opportunity are everything," she said. "It was inspiring to see minority women thrive in the legal field, while also taking a vested interest in ensuring that others like me have more opportunities."
Caitlin Thompson
2019 Graduate
Cleveland-Marshall College of Law
"I have people call me when they are having an incredibly rough time. I really enjoy being able to offer them some help or advice on what to do next."
Five months after Caitlin Thompson was sworn in as a lawyer, businesses across the state shut down because of COVID-19. Thompson had been hired by a law firm after graduation, but she said it closed during the shutdowns and didn't recover. That forced Thompson into the unique realm of job hunting during a pandemic.
After numerous interviews by phone and video, she joined a firm focused on employment law – where COVID-19 has been at the center of their work.
Some of the questions Thompson said she and her firm are grappling with: "How are employers supposed to handle employees needing time off? What happens if you get fired for having COVID-19? Can employers force employees to get tested for COVID-19 or vaccinated?"
Noting the media attention on police brutality and racism in the criminal field, Thompson also wants to see racism addressed in her new profession. Another key concern for Thompson is the treatment of children.
"A lot of minors are incarcerated and unnecessarily separated from their parents," she states. "In some situations, children are taken from their parents and placed in child protective services custody just because the parents are impoverished."
"I think a big reason I wanted to be a lawyer is I always wanted to know 'why,'" she notes. "I like knowing why things happen or why the rules are the way they are."
Thompson jokes that the TV show "Law & Order" sparked her to become a lawyer. She thought it would be fun to argue about cases with judges or opposing counsel. But what's fulfilling for her now is having the tools to help people.
"I have people call me when they are having an incredibly rough time," she said. "They typically just lost their job and are wondering what to do next. I really enjoy being able to offer them some help or advice on what to do next."
Her compassion encompasses not only people, but animals. She describes her childhood home as "a small zoo – with everything from dogs to ferrets to hermit crabs." She currently has two adopted dogs, Hulk and Post, and dreams for future additions.
"I think it would be fun to own a bearded dragon," Thompson said.
To find her way to the legal profession, Thompson first had to overcome a reluctance as an undergrad to talk with accomplished professionals. She said events held by the Stoke Scholars Program gave her a needed confidence boost.
"It helped me learn to just walk up to a stranger and begin a conversation," she said. "Now that I am an attorney, I know that I had nothing to be worried about, because it turns out all those daunting people – the professionals, attorneys, and judges – they are people too.
---
CREDITS:
Design: Ely Margolis
Web: Erika Lemke