COVID: Catalyst for Court Change
Looking back on the past 18 months in the courts, all paths led to the use of technology. And the pandemic opened a "gateway to modernization." Those were a few themes from a statewide task force, which explored the recent successes and struggles in the judicial branch with a view toward the future.
Imagine that every courthouse in Ohio offered free Wi-Fi, and courts and government partners installed computer workstations in communities so more people could "go to court" remotely. Envision people using their smartphones to schedule mutually beneficial times for basic proceedings, such as eviction hearings, dissolutions, and minor traffic violations.
What if documents, required signatures, and continuance requests could be submitted electronically to every court?
These ideas are among hundreds put forward by a special Ohio task force that studied how state courts relied on technology to stay open during the COVID-19 pandemic and asked this question: Which of the steps courts took to adapt should become standard procedure to further the administration of justice?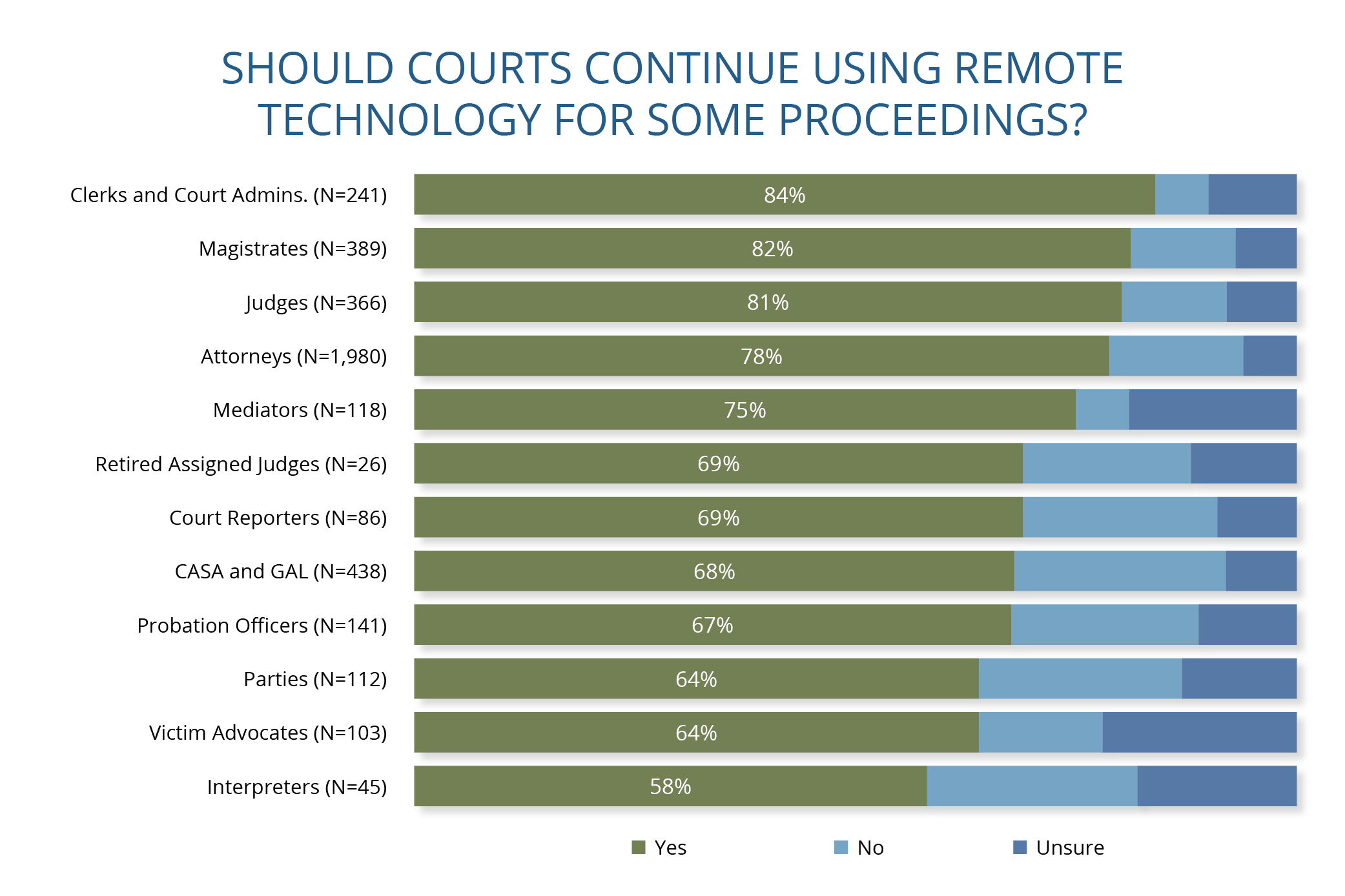 Click for larger image
×
The result of the work of the Improving Court Operations Using Remote Technology (iCOURT) Task Force is a wealth of data and 97 detailed recommendations.
The task force states in its comprehensive report that courts must fully join the 21st century digital world. And, that the lessons learned in the past year are a blueprint for the judiciary's future.
Applauding the task force's thorough and thoughtful work, Chief Justice Maureen O'Connor encourages Ohio courts to evolve.
"Looking forward, I want Ohio's courts to have a structure in place to decide the manner in which to conduct a hearing, whether in person, hybrid, or remote," Chief Justice O'Connor said. "The task force's recommendations present that framework – one that builds on courts' momentum and innovation during the pandemic and modernizes the courts to ensure that justice is served fairly and equitably."
Pandemic Rattles Court Routines
When the pandemic hit, the role of necessity as the mother of invention became clear to the state's more than 300 courts. They were spurred to action, reshaping the way they did their work, driven by the imperative of not shutting down an essential branch of government. They turned to technology for answers.
Chief justices and state court administrators across the country said it well in a July 2020 report:
"The Covid-19 pandemic is not the disruption courts wanted, but it is the disruption that courts needed: to reimagine and embrace new ways of operating; and to transform courts into a more accessible, transparent, efficient, and user friendly branch of government."
The Ohio iCOURT report catalogues survey feedback from not only thousands of judges, court officials, and attorneys but also litigants and justice partners, such as guardians, interpreters, and probation officers. The task force of 25 examined technical challenges as well as practical and legal concerns in reimagining how courts can function for the future.
In his opening to the report, task force chair Judge Rocky Coss of the Highland County Common Pleas Court notes that the 97 recommendations for Ohio courts don't resolve every issue or concern. He hopes they instead offer a foundation and inspiration for courts to keep updating their operations "and provide justice for all."
"I think this report is tremendous," said Justice R. Patrick DeWine, the Supreme Court's liaison to the task force. "The pandemic was a challenge to our court system. But Ohio judges stepped up and discovered innovative ways to keep our courts open. The challenge now is to take the good things that we learned in that difficult time and use them to create a better justice system for the future."
Benefits of Virtual Court Are Many
Overall, the task force concludes that courts must maximize the use of remote proceedings because of the substantial upsides and because litigants overwhelmingly prefer them. Just as technology advancements generally ease and streamline human experiences, the benefits for courts became evident during the pandemic.
For individuals involved in a court matter, remote technology lowers their cost of appearing or participating, and minimizes the not-inconsequential hassle. They can take less time off work – using lunch or other breaks for a hearing that may last only 15 minutes. Fewer hours at court means fewer wages lost and, for some, a reduced likelihood of losing a job. Transportation, parking, and child-care costs are slashed, if not eliminated.
Judge Coss adds that expenses also declined for transporting prisoners between correctional institutions and courthouses for in-person hearings.
"Conducting hearings, such as arraignment, pre-trial, and motion hearings, and even pleas and sentencings, have resulted in significant savings in costs and time for the sheriff's department responsible for transport," he said. "This has allowed courts to conclude more criminal cases in a timely manner."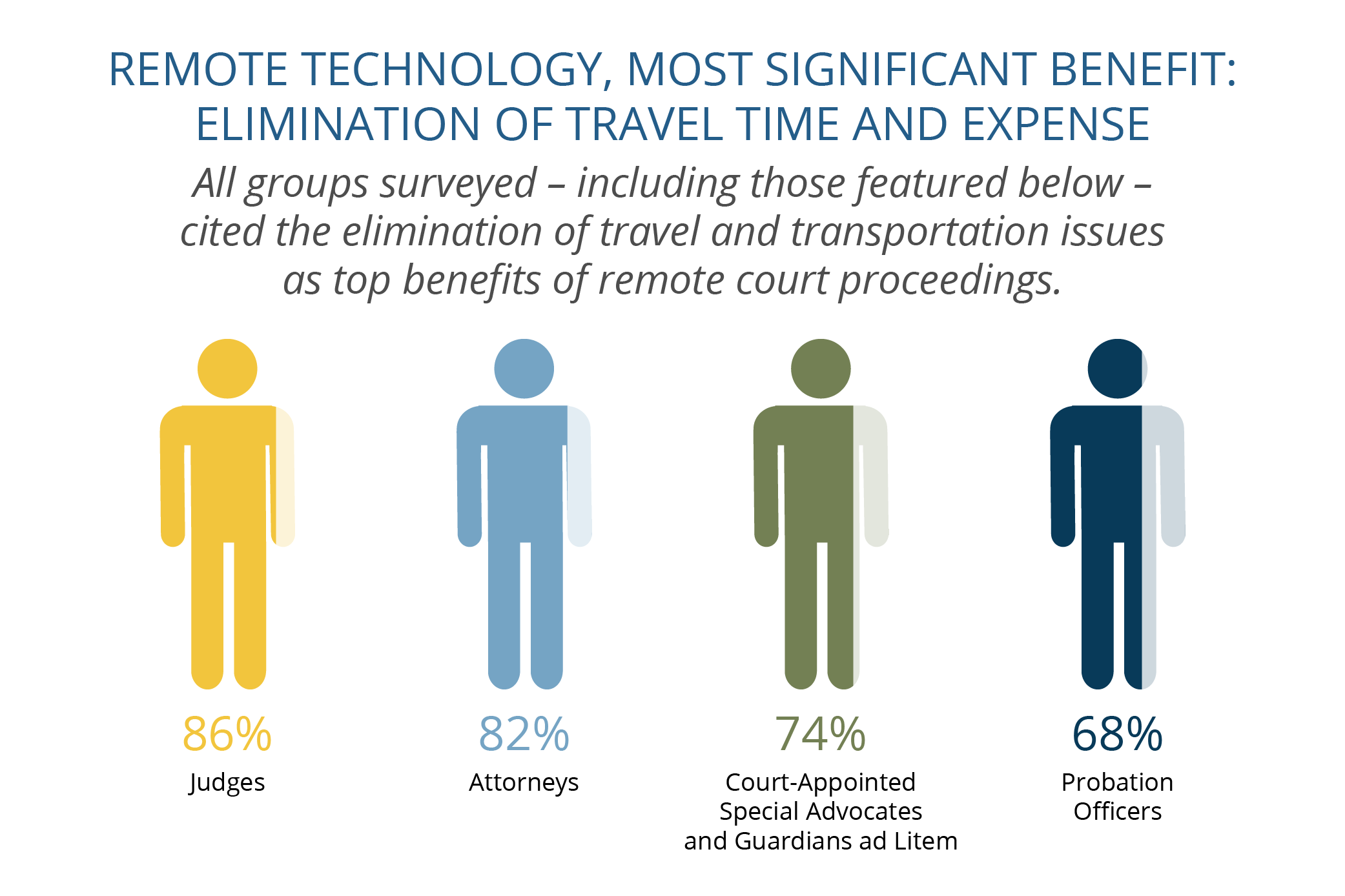 Click for larger image
×
Litigants with attorneys also save money when their counsel are able to work more efficiently via remote proceedings. It's a win-win for both. Attorneys spend fewer hours in clerk's offices filing documents, in the courthouse hallways waiting for hearings to start, and inside courtrooms asking for continuances because of scheduling conflicts. With more efficient workflow, they even may be able to take on more clients.
There are gains for court staff, too. With e-filing, for example, staff cut time entering data and scanning, freeing them for other tasks. Tech advances also generate financial savings for courts.
The task force acknowledges that holding virtual court proceedings for certain cases, and even specific aspects of an individual case, may not be appropriate. But the group points to pretrial and status conferences, dissolutions and uncontested divorces, and case management or discovery hearings – all shorter proceedings or ones that involve few people, lending themselves to remote sessions.
Stressing that the report doesn't impose mandates, the task force adds, "The ultimate goal … in this report is to provide courts flexibility to conduct hearings in the most appropriate and convenient manner they see fit."
Minimum Standards for Technology Must Be Set
Central to achieving the task force goals is setting minimum standards for court use of technology – similar to the courthouse security and facility standards established for courts. Courts must offer a basic level of services to administer justice – and reliance on technology to deliver those services only has escalated over time, the report explains.
"The last year arguably moved the judiciary from a system that was technology driven to a system that is technology dependent in order to effectively administer justice," the task force notes. "It has also highlighted that not all courts are operating at the same levels – whether due to the lack of resources to purchase necessary equipment, the lack of knowledge on how to implement technological solutions, or the lack of desire to embrace change."
To support local courts in enhancing their use of tech and staying relevant for the future, the report offers several ideas.
Ask-an-expert resource, IT training, and advisory group. The Supreme Court should compile a list of information technology experts from the state's courts who would field questions from other courts. IT training from the Court's Judicial College and an IT Leadership Consortium to advise local court staffs on using technology are other recommendations.
Click for larger image
×
Join forces to obtain tech. Pooling the purchasing power of multiple courts also would push down costs. Courts could join together to buy technology equipment, products, and services to get bulk pricing, or the Supreme Court could secure competitive pricing by facilitating group purchasing agreements. The report suggests that the Court explore this approach through a pilot project.
Elevate websites. Websites are a fundamental tool today for courts in providing information to, and receiving information from, the public and the legal community. The Court and selected experts should develop website templates or guidance for courts, the task force states. Instrumental guidance would describe how to build websites that comply with the Americans with Disabilities Act (ADA).
Establishing uniformity of the content available on court websites would benefit the public and legal community. Every court website, for example, should provide local court rules, standardized forms, and links to legal aid organizations. And, given that the public and many self-represented litigants access websites from smartphones, mobile-friendly formats are a must.
Update emergency plans. Continuity of operations (COOP) plans are procedures to follow when normal court operations are interrupted. Courts have structured plans to stay operational in natural disasters, fires, or cyberterrorist attacks. The task force advocates for courts to review and refine their individual COOP plans given the past year's experiences. The aim is to spell out how technology can ensure the delivery of judicial services.
"It would be unfortunate to waste the lessons learned over the last several months by not preparing future court staff for the next unforeseen emergency," the report states.
Public's Barriers to Accessing Virtual Courts Assessed
Not everyone had the same resources and technology during the pandemic, the task force notes. Because the public's access to the courts is fundamental for justice, courts must seek to remove obstacles to participation in a justice system that increasingly operates online – in particular, by reducing barriers to the internet, equipment, and technology know-how.
Task force vice-chair Serpil Ergun explains that the crisis spotlighted that those who need to participate in court proceedings aren't on the same technological footing.
"There is an urgent need for courts to level the playing field, so no one is shut out," said Ergun, who is Cuyahoga County Domestic Relations Court's judicial operations administrator. "If courts are to fulfill their mission of providing equal access to justice, we must be careful not to inadvertently widen the gap by designing a system that not everyone can use."
The report points out that numerous rural areas in Ohio lack reliable and affordable internet service, while in large urban areas many people aren't connected because of the cost. Even if people have smartphones – described in the report as "the most common gateway to the internet" – they may be able to afford only limited data plans or might have Wi-Fi access just at work.
Court staff must stay aware of these impediments, emphasizes the task force, which offers an array of measures that would make accessing courts and ensuring justice easier.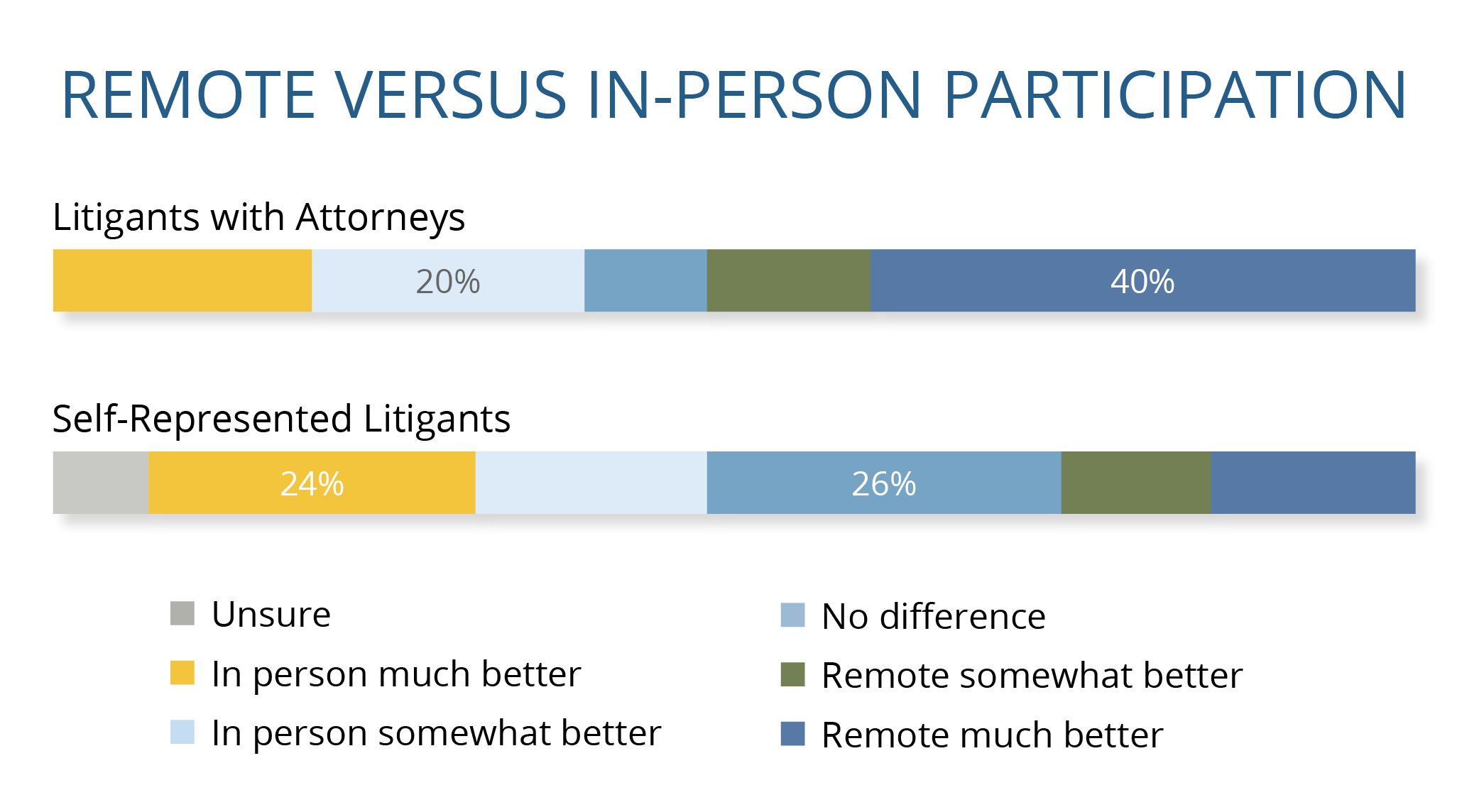 Click for larger image
×
Public Wi-Fi and computers. Courthouses should offer free wireless internet connections for the public, and courts should publicize other public locations, such as libraries or government buildings, where individuals can go for free internet access. Courts also could partner with social service agencies to install public computer workstations, for accessing remote court proceedings and forms along with helpful non-court resources, such as job search portals and government benefits.
Services designed for cellphones. Given that many people access the internet via smartphones, online court services (online payments, electronic filings, standard forms) must be built with smartphones front of mind.
Thorough, simple instructions. Aware that many litigants and participants in cases may be in court only a few times in their lives, the task force stresses the importance of clear and concise instructions for explaining online services or participating in remote court hearings, with attention to those in need of special accommodations. Video tutorials and addressing the plethora of formats are needed.
More ideas. Among the task force's other suggestions to overcome obstacles – some of which various courts have implemented:
Allow parties to electronically determine mutually beneficial times for their hearings for non-complex proceedings, such as eviction hearings, dissolutions, and minor traffic violations
Create a simple, online method for requesting continuances
Expand the number of courts offering electronic filing
Adopt local rules to accept electronic signatures, following best practices
Establish online access to court services, forms, and public records
Provide virtual assistants or kiosks for handling routine questions, such as court hours, finding forms, or requesting an interpreter
Build mobile applications for these types of services, or make websites adaptable so the services are accessible on cellphones.
Setting Guidelines for Remote Proceedings Is Essential
The task force also delved specifically into video-conference platforms, the technology courts have depended on to hold hearings during COVID-19. The group recommends that the Supreme Court set standards for court use of these platforms. The requirements would establish the most basic features for use in proceedings, so courts would have parameters when requesting proposals from vendors. Among the threshold items: security of the platform, ADA compliance, and a method to control disruptive viewers.
Also crucial is exactly how court proceedings are conducted virtually. The report noted several areas courts need to address.
Courtroom practices. Courts must tell participants how to request a break or recess. Also important is how and when evidence and exhibits will be shared online. "Courts should consider specifications for file formats, naming conventions, numbering systems, file size limitations, deadlines, and special accommodations," the report notes, adding that alternatives for self-represented litigants without tech resources need to be established.
Attorney-client discussions. Surveyed attorneys expressed concerns about the ability to confer privately with their clients. "Breakout rooms" or other similar spaces are common features on many video conference platforms. However, roughly 15% of judges and magistrates never or almost never offered the option, according to the survey. Court officials also need to make clear the process for objecting and holding sidebar conversations.
Click for larger image
×
Witnesses. For witness testimony in remote proceedings, courts should have a process for administering the oath and verifying identities. Witnesses, like litigants, should be instructed to be alone, in a quiet place, and not use a virtual background. They must be in separate locations from other witnesses and not hear other testimony, except as the parties allow.
With adjustments and precautions, the advantages of technology are significant. Like litigants and attorneys, witnesses save time and money related to child care, transportation, and parking and experience less disruption to their daily lives. Expert witnesses, some of whom travel from out of town to testify, gain financial and time savings as well, increasing the possibility that they will participate. These savings translate to lower costs of litigation for the parties.
Overall, by setting up precise virtual court procedures and practicing with the tools, comfort with new ways of handling standard courtroom activities will climb.
Considering Constitutional Concerns, Jury Trials, and Victim Rights
Constitutional issues in criminal cases – the right of defendants to be present during all stages of their proceedings and to confront witnesses – and the interplay of those rights with courts' new ways of using tech were detailed with attention by the task force. Weighing the U.S. and Ohio constitutions and case law, the task force developed recommendations for jury trials, both civil and criminal, in light of today's technology. The juries themselves were a key focus.
Courts should consider conducting jury selection remotely, the report suggests. It's hard to ignore what is being gained. In Texas, 60% to 90% of jurors are responding to summonses, compared with 20% to 35% pre-pandemic, and the jury pool has become more diverse and representative of the community. The approach saves potential jurors hours, often days, of their time and cuts their costs to serve.
Courts also must be mindful of victim rights and the protections ensured by Marsy's Law, which is part of the state constitution. The rights include timely notice of hearings and to be present at any stage of the case. Although victim advocates in the task force survey reported concerns during remote proceedings, such as victims being overlooked or not having adequate technology, about 54% of the small sample stated they were satisfied or very satisfied with the protection of victim rights in the virtual courtroom. The report particularly emphasized victim privacy and security.
Click for larger image
×
"There are concerns [about] defendants gaining information about them and their location through remote hearings they would not have were the hearing in court (phone numbers, location information, etc.). In order to maintain victims' security and privacy, special attention should be given to how the court will best protect victim information in remote hearings," the report states.
Actions Needed to Implement Enterprising Ideas
The current evolution and forward-thinking momentum in the courts will require changes to various rules to accommodate increased and ongoing use of technology. The task force sifted through civil, criminal, juvenile, domestic relations, probate, and appellate court rules, identifying the amendments or additions to achieve this end.
For example, definitions of terms such as "appear," "in person," and "in the presence of" will need updates to allow remote participation for the long term. Such language peppers many court rules, as well as the Ohio Revised Code and the Ohio Administrative Code.
The recommended changes to civil, criminal, and juvenile court procedures and evidentiary and traffic rules currently are under consideration by the Supreme Court's commission that reviews such proposals. Any amendments approved by the commission will be open to a public comment period with the earliest possible implementation of July 1, 2022.
Track Statistics and Adapt Along the Way
The task force presses courts to gather data to assess what's working and what needs adjustments as they institute new approaches.
"[T]he speed at which new technology is implemented and its expansive scope necessitate courts ensure that no unintended consequences occur," the report states. "Thus, the evaluation of its use is crucial so courts have a true understanding of the impact, both positive and negative, that remote technology is having on their court operations and ultimately the administration of justice."
The exhaustive framework proposed by the task force represents an opportunity for courts to retain the best from the struggles of the past year. The steps are designed to empower courts to leverage remote technology going forward.
In the task force's words, "These recommendations are designed to work collaboratively together to create modern, technologically adept courts responsive to the needs of the public they serve."
---
CREDITS:
Design: Ely Margolis
Web: Erika Lemke