Roads to Justice for Rural Ohio
Three-quarters of Ohio attorneys are clustered in the state's seven largest counties. That leaves only 25% of attorneys to locally represent people with legal needs in 81 counties. To deal with these needs, courts and legal aid groups in rural areas show flexibility and find inventive ways to assist.
Judge Matthew Puskarich can list the attorneys in his county from memory. The Harrison County Juvenile and Probate Court judge said there are those in government roles – a prosecutor, an assistant prosecutor, one public defender, the common pleas court judge, and him. There are two corporate attorneys. And of the attorneys available to represent individuals in court, Judge Puskarich mentions that one is moving away, one lives the next county over, and one doesn't practice in juvenile court.
In total, Harrison County has 13 active attorneys. Of those, there are only five private practice attorneys, who are the ones that could represent the county's roughly 15,000 residents in court. For every 15,000 residents in Cuyahoga County – the county with the most attorneys in the state – there are 61 private practice attorneys. That's one private practice attorney for every 246 Cuyahoga County residents versus one private practice attorney for every 3,000 people in Harrison County.
The shortage of attorneys is a difficulty faced by many parts of Ohio. In April, a new state law to encourage lawyers to practice in rural areas took effect. With the support of the Ohio State Bar Association, the General Assembly created the Rural Practice Incentive Program. The program will repay law school loans for qualifying attorneys in communities with a certain ratio of attorneys to county population. They qualify if they agree to work as prosecutors or public defenders, or to represent people facing criminal charges who don't have the means to pay. The program can repay up to $50,000 in loans for three to five years of service in the designated community. The Ohio Department of Higher Education is currently setting up the program, which received $1.5 million in state funding.
Underserved counties are identified in the law by determining the proportion between attorneys and population. Using that standard – 700 or more residents for each private practice attorney – the Ohio Access to Justice Foundation found that 81 of 88 Ohio counties don't have enough attorneys for the need.
That absence of attorneys causes a particularly concerning dilemma in criminal cases, given U.S. and Ohio constitutional rights. The constitutions entitle defendants charged with a crime to have legal representation.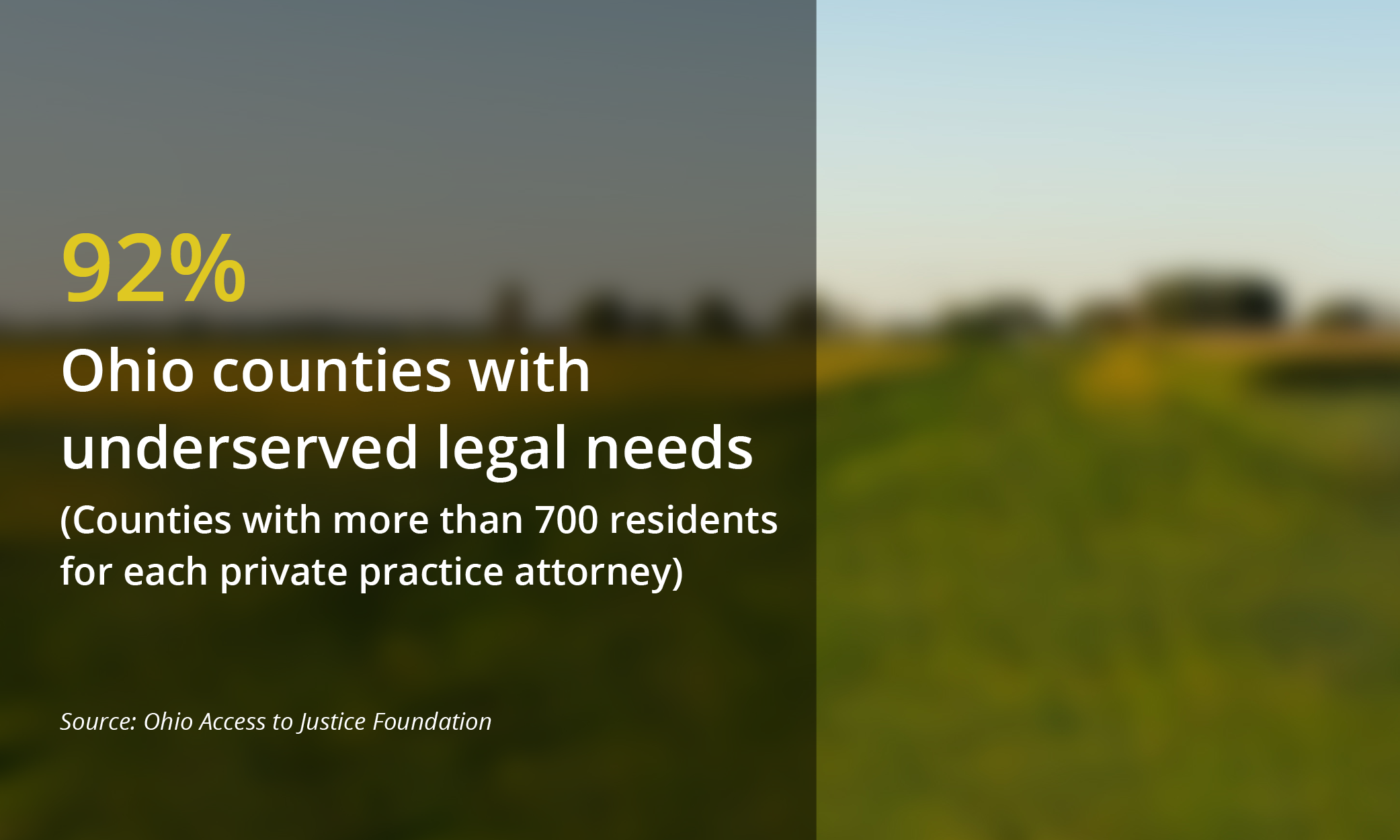 Finding Ways to Work With Attorneys
Judge Linda Warner in Meigs County Common Pleas Court confronts this difficulty nearly every day as the judge for criminal cases involving felonies in the county. The court dealt with 225 indictments in 2022. The county is the state's eighth smallest and has 10 private practice attorneys for 22,000 people.
Judge Warner noted there are three prosecutors to handle felonies in common pleas court and all misdemeanors, which are heard in the municipal court. Only one attorney who lives in the county takes appointments to defend people who are charged with a felony but can't afford legal representation. There are a few other attorneys who help out, but live and have offices outside of Meigs County – one in Gallia County, one in Franklin County, and a semi-retired attorney in Athens County.
"We spread them very thin," Judge Warner said. "We go out of our way to work with them."
She added that to keep costs down in a county with a tight budget, they have no public defender's office. The county pays attorneys case by case to work as public defenders. This saves on paying full-time salaries and benefits. To make a living, the attorneys also have private law practices, and their work necessitates taking cases in other counties along with Meigs.
Judge Warner said her staff adjust the case dockets to group attorneys' cases together based on dates that work best for the attorneys. This includes jury trials.
"When the jury trials are ready to go, that means all the other cases scheduled on those days are put on hold and rescheduled," the judge said. "We have to get cases done."
"We not only work hard to efficiently and effectively utilize each public defender's time, but we also make accommodations when necessary and conduct many non-evidentiary hearings with technology, such as video conferencing," Judge Warner added.
Judge Puskarich relies on similar strategies in juvenile and probate court – which, with its small pool of attorneys, also depends on those who live in other counties. He tries to schedule their cases on the same day, to minimize travel. He knows there are "motion days" in the larger surrounding counties when attorneys who represent juveniles in his court need to be at those courts for other cases.
"I schedule my court around those days to ensure the out-of-county attorneys can be here in person when needed," he said.
He also will allow them to appear by video for certain proceedings, usually pretrials. He looks overall for ways to support the attorneys who practice in his court.
"We know we need them," he said. "We make it as easy as possible to practice here."
Judge Puskarich's colleague Judge T. Shawn Hervey handles criminal, civil, and domestic relations matters in Harrison County, which is the fifth smallest in Ohio. When one of them is sick or away, the other judge can cover the caseload, Judge Puskarich said. This prevents additional complications and delays on top of coordinating the schedules of the too few attorneys. Judges Puskarich and Hervey both are common pleas court judges, and each can assist in the other's divisions, Judge Puskarich explained. This ability to swap also saves the county the costs and the time involved in having a separate judge assigned when one of them is out, Judge Puskarich noted.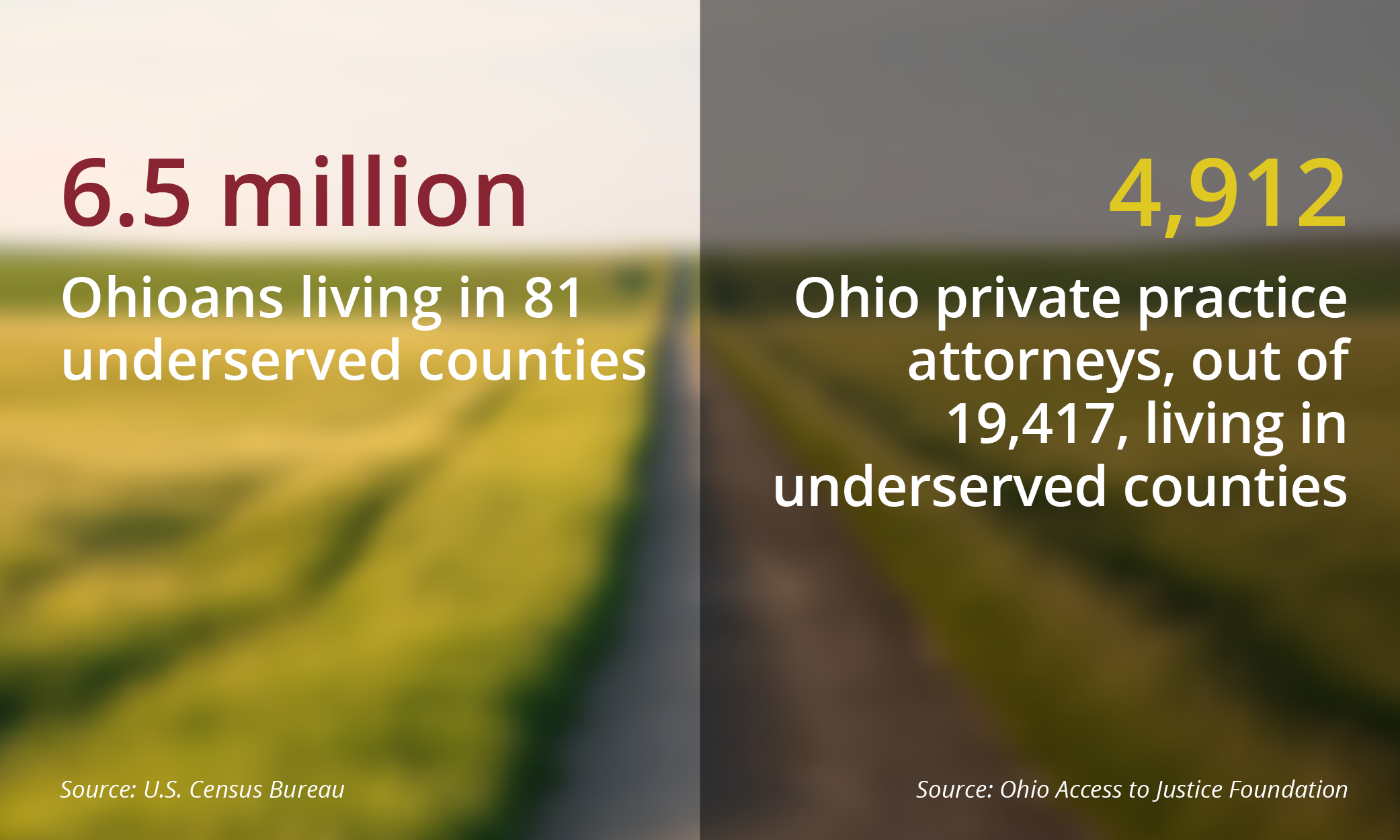 Pressure Rises With Case Deadlines
On the far west side of Ohio, Judge Jenifer Overmyer presides in Preble County Juvenile and Probate Court. She finds herself juggling unexpected scenarios that intersect with the need for attorneys. She has heard child welfare cases in which the children in a single case have different parents, who are each entitled to an attorney. That has at times meant appointing four or five attorneys for different parents on a single case, she said.
"This is time consuming for our dedicated clerks and sometimes wreaks havoc on our scheduling, too. When we have multiple attorneys, we have multiple calendars to coordinate," Judge Overmyer said.
Conflicts that arise for attorneys also are a concern.
"With our limited numbers, it unfortunately is not uncommon for an attorney to be unable to represent a particular person because they represented the other parent in a previous case," she said.
There are only 20 private practice attorneys in Preble County, and Judge Overmyer said her list of those who can take cases has about 10 attorneys total. A handful of those are from other counties – mostly its next-door neighbor Montgomery County. The judge pointed out that the time available to locate an attorney has limits.
"The right to an attorney, although paramount, is sometimes in conflict with the right to have a timely resolution of a case," she explained. "We're really walking a tightrope between both needs."
In the county of 41,000 people (61st in population out of 88 counties), Judge Overmyer also struggles to find attorney guardians ad litem (GALs) for her cases and mediators for custody disputes. She noted that a "wonderful" court-appointed special advocate (CASA) program in the county helps. CASAs rather than attorney GALs can be appointed in some cases, lessening the burden on finding enough attorneys.
Courts find occasional relief from the demand for attorneys when there are opportunities to prevent people from ever reaching a courthouse proceeding.
Judges Overmyer and Puskarich both foster connections with the local schools. Judge Overmyer said the Success Program in Preble County schools assigns a liaison to each of the county's five school districts. The liaisons tackle everyday problems, hopefully before they escalate into bigger ones, such as truancy, that could land a child in court. In Harrison County, there's a "creative options team," which includes the juvenile court administrator and social services agencies. It's designed to figure out which kids might be heading for trouble well before they end up in the justice system, said Judge Puskarich.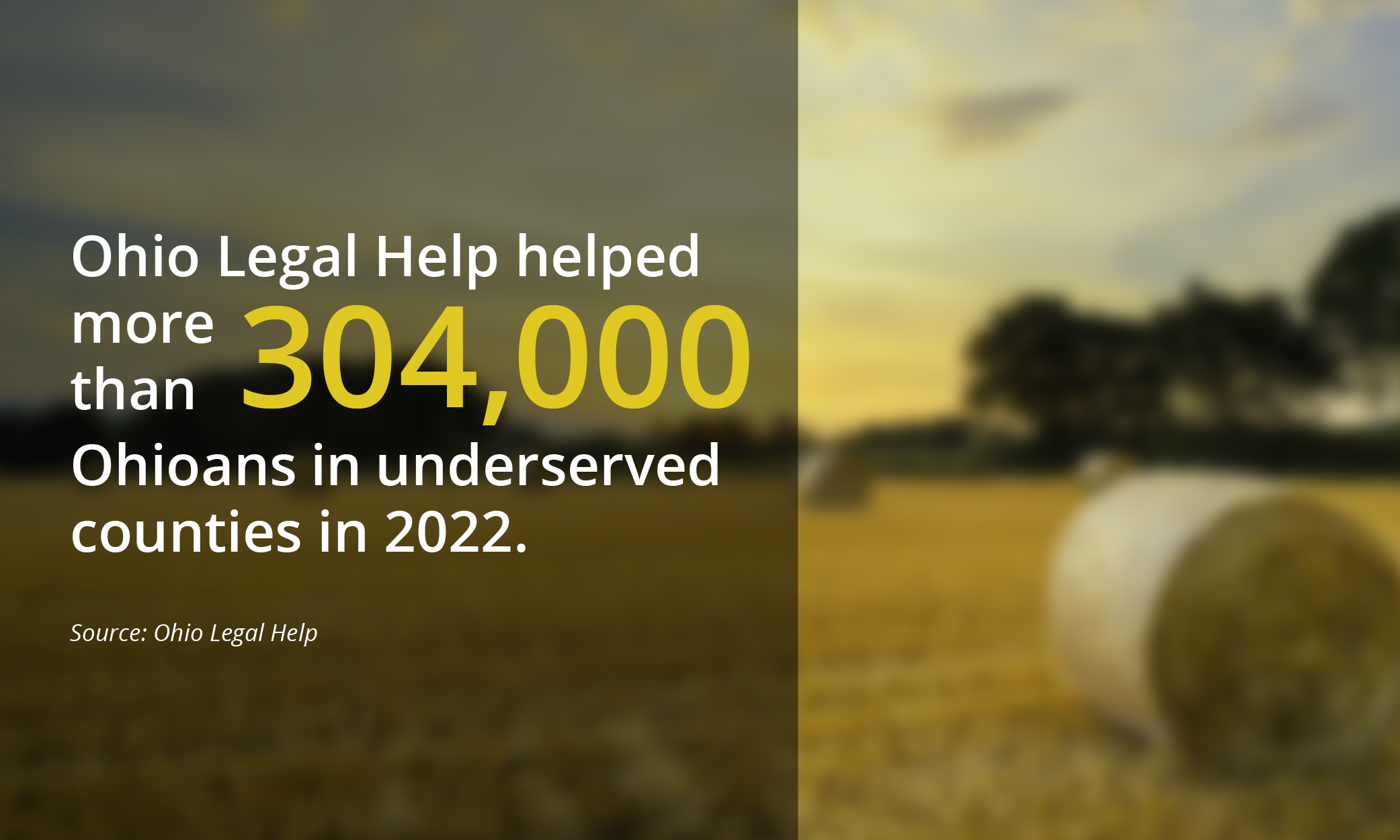 The Ohio Legal Help website guides Ohioans in understanding their legal options, making informed decisions, and connecting with legal and community resources.
Legal Guidance Delivered on Wheels
A leading initiative to ensure legal representation in rural courts, where attorneys are few, is to supply legal assistance to people at the places they're already going. The focus is civil cases, which don't necessarily require an attorney. However, researchers over the years have found that having an attorney versus not having one affects how well a person's civil case moves through courts.
One program is the Ohio Justice Bus, a legal aid office on wheels. Each month, for example, the Bus visits the Adams County Courts in West Union. The county, which sits along the Ohio River, has a population of roughly 27,500, the state's 11th smallest.
Sophia Chang, pro bono director for the Ohio Access to Justice Foundation, said the Bus parks in front of the courthouse to help people with civil legal issues. Much of the work centers on family law, such as dissolutions, divorces, child custody, and visitation schedules. She noted that the local court alerts people ahead of time that the Bus will be on site. On the day of hearings, Judge Brett Spencer or the magistrate can send people out to the Bus with their questions.
"It helps the courts to make it easier for people to find out what to do in their specific case," said Chang.
Southeastern Ohio Legal Services (SEOLS) also collaborates with courts to assist the public with non-criminal matters. SEOLS and courts have organized "one-stop shops" for eviction cases right in courthouse lobbies, said Kristen Lewis, the group's advocacy director. By offering legal guidance inside courthouses, the attorneys meet people in the same place their hearings are held. That means people don't have to seek out help separately at legal aid or law offices, Lewis explained. The group runs weekly eviction clinics on-site at three Ohio courts, including in Washington and Athens counties.
Although eviction rates are a concern in urban, suburban, and rural areas, Lewis noted that the overall lack of affordable and safe homes is made worse in rural locales by an aging housing supply and fewer multi-family housing complexes. Lewis explained that tenants with a lawyer in eviction court are more likely to negotiate an agreement to pay late rent and stay in their home or to receive additional time to move. When tenants can't negotiate, they face eviction proceedings.
"And once there's an eviction on your record, it's even harder to secure housing," Lewis noted.
Courts frequently group eviction proceedings into one or two days a week, which streamlines the process for all involved.
"And it allows SEOLS to serve many more people," Lewis said. "Our attorneys can be available for multiple hearings all within a short period of time."
That's not a small point for SEOLS, which employs 36 attorneys total for legal needs spanning 30 rural counties.
Technology Lightens Load
SEOLS has increasingly turned to technology to bring together attorneys and people with legal needs. Lewis said that since the pandemic, their clients have become more comfortable accessing information and assistance online or through their cellphones. Leveraging that, SEOLS leans on volunteer attorneys in urban and suburban central Ohio to assist clients in rural areas via virtual meetings or phone calls. Chang said the attorney or two who travel on the Ohio Justice Bus do the same, bringing in attorneys from elsewhere to assist via video.
The Bus also functions as a mobile technology hotspot for clients – with Wi-Fi, computers, and printers. Those resources are essential for many people, given that they more often have cellphones rather than computers and printers, Chang explained. She said the tech tools are particularly useful when people need to complete forms for courts. Not only can people access and print forms on the Bus at no cost, the attorneys also can assist with filling them out and looking them over, Chang said.
"Just that basic review of the forms by an attorney ends up being helpful to the court," Chang noted. "It prevents errors."
Fewer mistakes in paperwork saves courts the time it would take to review repeated submissions from litigants and speeds up the resolution of legal issues.
With out-of-town attorneys arriving only for short-term help, though, trust from clients can be a hurdle. When the Ohio Justice Bus pulls into a location, the attorneys on board know they need to dispel suspicions. Chang said the team understands that people seeking legal help are often in a crisis and feeling vulnerable. She explained that as many local attorneys as possible are recruited to help during clinics at the Bus. Attorneys who work or live in the communities put people more at ease. Attorneys from the area can also share their knowledge of local court rules and operations.
Coordinating the Bus visits with the local courts fosters trust with the communities, too, Chang said. She noted that about a third of the clinics they operate across the state now involve the participation of local courts.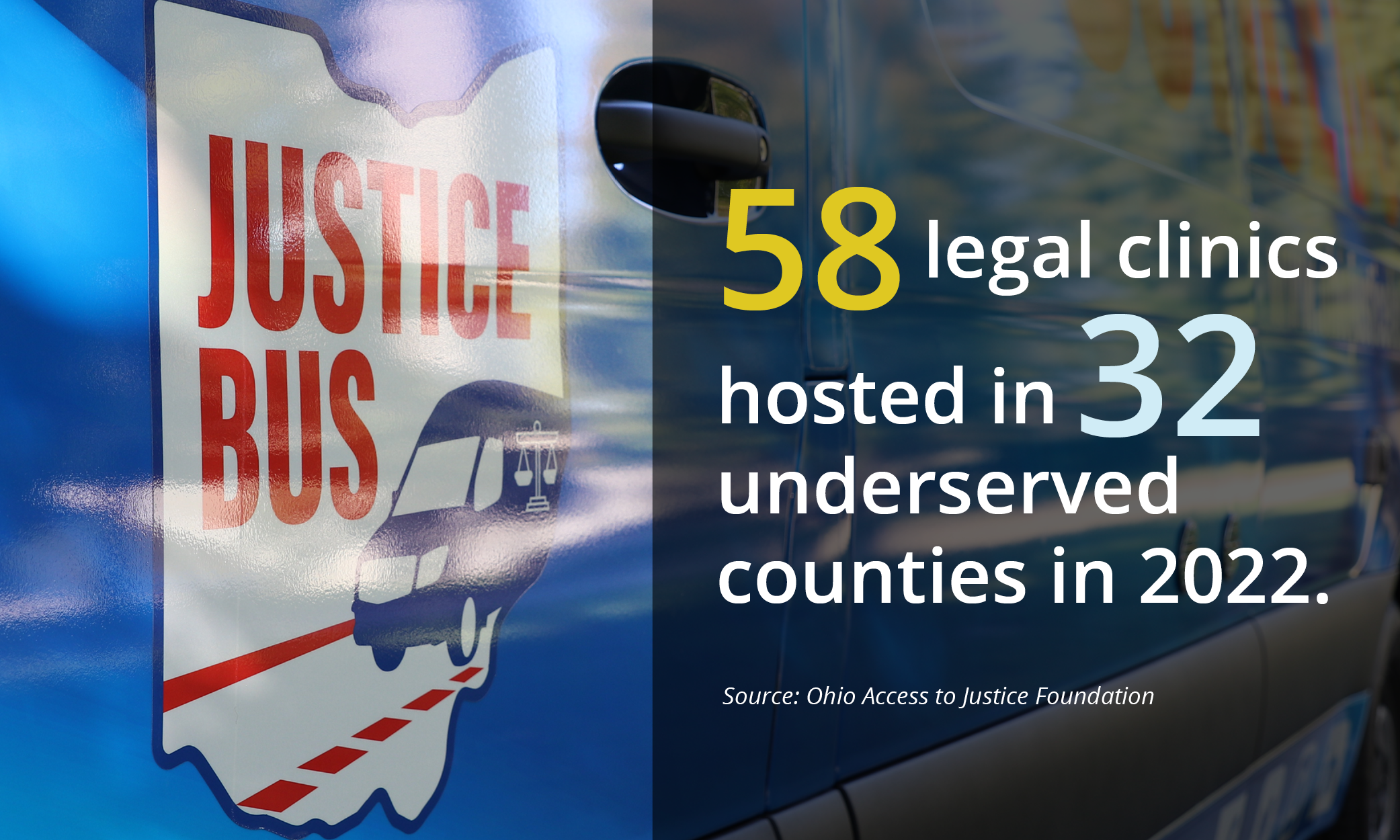 Opportunities and Upsides Plentiful
These creative ideas and projects for providing legal assistance are filling more needs in rural communities. But for now, a substantial gap remains.
"For every one person SEOLS helps, there are nine others who we can't help," noted Lewis. "People don't necessarily think of attorneys as necessary infrastructure for a community, but the ramifications of not having access to legal help in rural communities will impact how local governments function, the ability of communities to attract and keep businesses, and even family stability."
For example, there is a need on the near horizon for attorneys in rural locations who can step into openings in local governments. Judge Overmyer in Preble County points out these career opportunities to law students and new attorneys. An attorney could be hired by the prosecutor's office, take on public defender work, seek a magistrate position, or run in an election for judge, Judge Overmyer noted. That's just in the judicial branch.
Judge Warner noted the chance for attorneys to build experience in diverse areas of law. She and her husband both grew up in Meigs County. After law school, they looked at other places to live, work, and raise children. She wasn't interested in corporate law. Or working for a big law firm. So they returned home.
"There is great variety for attorneys here," she said. "Your law practice is whatever issue walks through the door. You will be able to help people with all kinds of legal issues."
The three judges all mentioned how they value the camaraderie of their legal communities. Of course, the attorneys and judges who practice around urban and suburban courthouses also can be close and work well together. But Judge Puskarich noted that when he got married, "most of the local bar was invited to my wedding."
"And when I lost my brother, the entire bar in Harrison County reached out in their own personal way out of concern," he added. That's unlikely in larger counties where attorneys number in the thousands.
The encouragement from judges, the legal aid initiatives, and the court-driven solutions are positive steps toward serving the legal needs of people in rural Ohio. And more suggestions will be needed to ensure enough attorneys over time.
"Everyone is entitled to competent legal representation, and residents of rural locations should have the same access," Judge Overmyer. "We must continue to try and attract new attorneys to these areas."
---
CREDITS:
Design: Ely Margolis
Web: Erika Lemke