Court Hears Asbestos-Related Lawsuit Then Travels to Marietta for Off-Site Court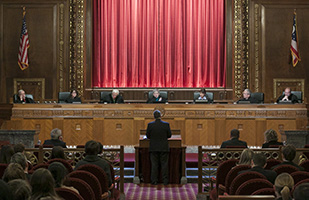 The Supreme Court will hear oral arguments about the appeal of an asbestos-related wrongful-death verdict and will consider sanctioning two attorneys.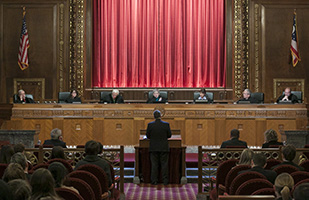 The Supreme Court will hear oral arguments about the appeal of an asbestos-related wrongful-death verdict and will consider sanctioning two attorneys.
The Ohio Supreme Court will consider the appeal of an asbestos-related wrongful-death lawsuit and two attorney disciplinary cases next week during oral arguments in Columbus. The justices will depart the next day for an off-site program in Marietta.
Honeywell International's challenge to a $1 million judgment against it is among the three cases slated for oral arguments in Columbus on Oct. 17. A 43-year-old mother of four died from peritoneal mesothelioma caused by her exposure to asbestos. Her only known asbestos exposure occurred at her childhood family home, where her father wore his asbestos-dust-covered work clothes home, and from the dust caused by changing the brakes of his personal cars in the family's garage.
The woman's father testified that he always used Bendix brand brakes when changing the brakes and he may have done six brake jobs during the 18 years his daughter lived at home. A jury in Schwartz v. Honeywell accepted the "cumulative exposure" theory and found that Honeywell, now the owner of Bendix, was 5 percent liable for her death. While all the other parties in the case settled, Honeywell challenged its share of the $20 million verdict. It argues that Ohio's 2004 asbestos tort reform law doesn't recognize cumulative exposure, and that an injured person must prove exactly how a manufacturer's asbestos-containing product was a substantial factor in causing cancer.
Along with the brief summaries below, in-depth previews of the three cases being heard in Columbus are now available.
Columbus Case Highlights
The Board of Professional Conduct recommends that a Columbus attorney be disbarred for violating a number of rules governing Ohio lawyers, including failing to notify clients that he didn't maintain malpractice insurance while representing them. The attorney has denied all allegations made by the Columbus Bar Association and maintains his only error was using older forms to notify his clients of his lack of insurance. In Columbus Bar Association v. Nyce, the attorney suggests that no sanction by Ohio Supreme Court is warranted.
In a second disciplinary case, the professional conduct board recommends a six-month actual suspension in Disciplinary Counsel v. Derryberry for a Wapakoneta attorney who neglected a child custody case and lied during the disciplinary process. A Lima woman hired the attorney to help her obtain custody of a great-grandson who had been living with her for two years. However, the attorney never filed any paperwork with the court in the ongoing custody dispute, which included custody claims by the father and the grandmother. In asking for a fully stayed suspension or a public reprimand, the attorney maintains that he diligently represented his client and that his approach was strategic.
Marietta Hosts Off-Site Court Session
On Wednesday, Oct. 18, the justices will commemorate the 30th anniversary of its first off-site court session by returning to the city where the program began. The official session of the Court outside Columbus will be at Marietta High School, and students from Marietta and eight other schools in the area will attend. Take a look at "Court to Mark 30th Anniversary of Off-Site Court Program in Marietta" for more information about the visit as well as brief summaries and previews of the cases to be heard.
Oral Arguments Scheduled
Session begins at 9 a.m. starting Tuesday at the Thomas J. Moyer Ohio Judicial Center in Columbus. All arguments are streamed live online at sc.ohio.gov and broadcast live and archived on The Ohio Channel.